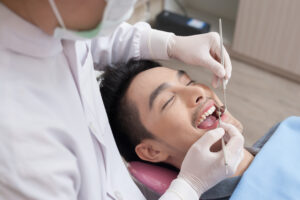 We want to see you for a visit every six months, as this can help safeguard your smile against issues like cavities and gum disease. To make a diagnosis with precision and accuracy, we use digital technology to offer a personalized approach. In today's blog, your Astoria, NY, dentist talks about the benefits of a routine checkup visit.
Using Advanced Technology for a Diagnosis
We want to see exactly what is happening in your smile, and better yet, identify possible problems so we can treat them before you even develop discomfort. Which is why we employ digital x-trays, which provide detailed images without uncomfortable bitewings and using a fraction of the radiation. We also obtain the images instantly chairside, so we can see what is happening beneath the gums. Our intraoral cameras allow us to see decay and other issues in their early stages as well.
Creating a Personalized Treatment Plan
Once we diagnose the presence of a serious oral health concern, we can create a treatment to address it, one personalized for your smile. If we find a cavity, we could use a lifelike dental filling. more severe damage or decay can be addressed with a custom-made and natural-looking crown. Our custom oral appliances can help address TMJ disorder and bruxism (chronic teeth grinding), as well as sleep apnea. Our deep cleanings, known as a scaling and root planing, could help reverse gingivitis or allow us to start managing gum disease to prevent tooth loss down the road. Taking a custom approach means lifelike results, a healthy and balanced bite, and better overall oral health.
The Dental Cleaning
In the same visit, we will also take time to clean your teeth. A dental cleaning means we remove all plaque and tartar buildup, something that brushing and flossing alone cannot do. To remove this buildup, we use an ultrasonic scaling device and a manual tool. The process only takes a short time, and we complete it by polishing the teeth for a smoother finish and brighter appearance. You should see us every six months for a checkup and cleaning, or if you have high risk factors for gum disease and other tissues, every three to four months. Combined with good at-home hygiene habits, like healthy diets and daily brushing and flossing, this can help you enjoy your best possible smile!
If you have any questions about our checkup and cleanings, or if you would like to schedule one for you or a member of your family, then contact our team today.
Schedule a Visit with Your Astoria, NY, Dentist Today
Our team wants to help you safeguard your oral health with regular visits. To learn more about helping smiles stay healthy and strong, then schedule a consultation by calling Jeffrey Leibowitz, DDS, in Astoria, NY, today at 718-728-8320.