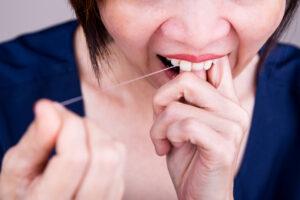 You need to see us every six months for checkups and cleanings, but in between these visits you need to care for your smile at home. In today's blog, your Astoria, NY, dentist talks about how you can protect your teeth and gums from home with a better diet and with routine brushing and flossing habits.
Brushing and Flossing
Brushing and flossing is so important for protecting your teeth and gums. When you care for your smile each day, this means you remove stray food and drink particles before they can feed harmful bacteria and allow plaque buildup to grow more severe, complications linked to issues like tooth decay and gingivitis. You should brush each morning and evening for about two minutes each time, and also floss every evening too. When you brush, we recommend a toothbrush with soft bristles and a toothpaste that contains fluoride, an ingredient that helps strengthen outer tooth enamel.
Choosing Healthier Foods and Drinks
What we eat and drink matters too! For example, foods high in sugar and starch leave behind particles that cling to the teeth and encourage plaque and tartar buildup. The same goes with beverages high in sugar, such as energy drinks, sodas, sports drinks, and even fruit juice. Try to drink plenty of water, which hydrates your body during these hot summer months, and also cleanses the mouth too. Healthy snacks and meal options like fresh veggies and fruits, whole grain breads, and items like cheese and low-fat yogurt, can be beneficial too. Choosing snacks and drinks that are good for your smile, combined with better brushing and flossing habits, means a significant reduction in the risk of cavities and even gum disease.
Mouthguards
We would also like to talk a little about mouthguards. Wearing a custom option when you play sports or martial arts help reduce the risk of injuries to the teeth, such as cracks or chips, and could prevent a tooth from being knocked out completely. If you play sports this summer, talk to our team about measures to protect your smile.
If you have any questions about safeguarding your oral health from home, then give us a call today to learn more. We would also love to see you for a summer checkup and cleaning too, so we can help you enjoy good oral health and address any areas of concern before they cause discomfort and threaten smile stability.
Ready to Schedule a Dental Checkup and Cleaning?
We would like to help you avoid the onset of serious oral health problems. To learn more about improving the overall health of your smile, then schedule a consultation by calling Jeffrey Leibowitz, DDS, in Astoria, NY, today at 718-728-8320.