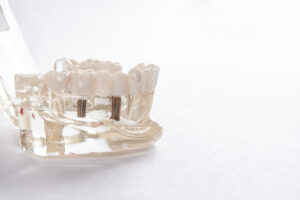 Don't live with an embarrassing gap in your smile. If you have one to three missing teeth in a row, then we could use a fixed bridge to offer a lifelike replacement option. In today's blog, your Astoria, NY, dentist discusses the benefits of a fixed bridge, and talks about the importance of quality tooth replacement.
What Happens When You Lose a Tooth?
Even minor tooth loss could be a serious cause for concern. Losing natural teeth upsets bite balance and could strain the jaw joints, leading to complications like TMJ disorder and bruxism, as well as the onset of dental misalignment. This impacts smile beauty and also increases the risk of tooth decay and gum disease. Your missing teeth could alter how you eat and speak, and make you feel uncomfortable in social situations. The body will respond to the missing root or roots by suspending the flow of calcium and phosphorus to the bone tissue around the lost teeth, a complication linked to weakened jawbone structure and further tooth loss.
The Benefits of a Dental Bridge
A dental bridge gives us an opportunity to address between one and three missing teeth in a row. The prosthetic contains your new teeth, or pontics, with dental crowns attached to each end. Lifelike materials like ceramic will be used, as we can shade these to blend with the smile. The material will also be able to handle daily bite forces and pressure with ease. The crowns will be attached to the abutment teeth on either side of the gap, securing your new teeth. Dental implants could also be inserted into the jaw, and the crowns attached to these, which saves natural tooth structure and offers prosthetics that can last longer and prevent the weakening of the jawbone.
Creating a Lifelike One in Two Visits
To create them, we first need to take detailed digital images of your smile, creating a 3D computer impression to design and craft the prosthetic. If you're receiving a traditional bridge, we will need to remove structure from the abutment teeth to make room for the crowns. Otherwise, we will choose the best angle or position for dental implant placement. After the preparation is complete and the images and x-rays taken, you will leave the office while the prosthetic is crafted. When you return, we can check the fit and attach the finished product, so you smile with confidence once again. If you have any questions, give us a call today.
Do You Need a Dental Prosthetic for Your Smile?
We're ready to help you obtain a full and complete smile again! To learn more about prosthetic dentistry, then schedule a consultation by calling Jeffrey Leibowitz, DDS, in Astoria, NY, today at 718-728-8320.