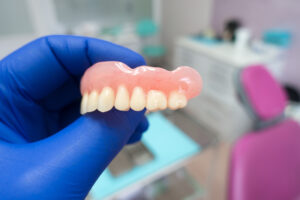 When you lose most of your teeth, or all of them, then your oral health could suffer, as could your ability to eat and speak. To rebuild your smile and enjoy better quality of life, you may benefit from a complete set of dentures. In today's blog, your Astoria, NY, dentist talks about full smiles with full dentures.
The Impact of Total Tooth Loss
When you're missing most of your teeth, or possibly all of them, this could mean serious trouble for your quality of life. You become severely limited in the kinds of foods you can eat, which deprives you of essential nutrients. Speaking clearly is difficult, and this impacts how comfortable you feel in social situations. To restore your quality of life, we recommend replacing your missing teeth with a set of full dentures. These will be custom-made for your smile!
Creating a Custom Denture
To begin, we will take a close look at your smile. We could remove the last few teeth with a gentle tooth extraction process. We then take detailed digital images and impressions of your smile, which we will use in a dental lab to design and craft the prosthetic. The denture will contain a set of new teeth placed in an acrylic base. The teeth will be able to absorb daily pressures, and will be made from translucent materials like porcelain or ceramic, which we can shade to look natural. The base we insert them into will look like natural gum tissue. We have them in removable and implant-secured options.
Removable vs. Implant Secured
The removable option will be held in place with natural suction for the upper arch, or the assistance of a special adhesive for the lower one. They will need to be removed for soaking and cleaning, and tend to last about 5 to 10 years on average. For greater stability, we could also work with an oral surgeon to insert multiple dental implant posts per arch. Once in place, we will attach abutments to them. The dentist then connects the denture to these abutments, offering a fixed prosthetic that never slips or requires removal. The implants are accepted as natural roots, so they can stay in place for decades to come.
If you have minor or severe tooth loss, we have options to help improve the function, health, and beauty of your smile. To learn more about our dental prosthetics, then contact our team today with any questions or concerns you may have.
Do You Want to Learn More About Our Prosthetics?
We would like to help you enjoy a fully functional smile once again. To learn more about our dentures, then schedule a consultation by calling Jeffrey Leibowitz, DDS, in Astoria, NY, today at 718-728-8320.