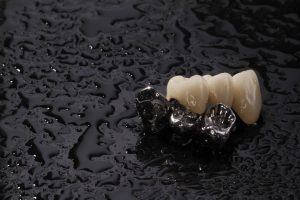 Did you know that minor tooth loss alone could be linked to issues like misalignment, cavities and gum disease, and even painful TMJ disorder or bruxism (teeth grinding)? Which means replacing your lost teeth is key to better oral health. Your Astoria, NY, dentist is ready to help with our custom-made dental bridges.
Designing Your Prosthetic
To replace between one and up to three missing teeth in a row, we may suggest a custom-made dental bridge. The prosthetic basically consists of your new teeth, which we refer to as pontics, with dental crowns attached to each end. To begin the design process, we will administer a numbing agent and remove structure from the teeth on either side of the gap. Known as abutment teeth, the crowns will be attached to these to secure the prosthetic. We next take impressions and images with digital technology, which will be used in a dental lab to design and craft the finished product.
Crafting the Final Product
We use strong and lifelike materials to create the crowns and pontics, ensuring they can be color-matched to blend with your smile and offer seamless tooth replacement. These materials, such as ceramic, also absorb bite forces and provide a durable chewing surface, restoring your ability to speak clearly and eat your favorite foods again. When ready, we will attach the crowns with a powerful bonding agent. With proper care and attention, your new prosthetic could last between 10 and 15 years on average, providing a durable and lifelike new smile.
Caring for Your New Teeth
You should make sure you brush and floss daily, cut back on foods and drinks high in sugar, and avoid tobacco products. These actions protect your natural teeth from tooth loss, and also safeguard the abutment teeth that secure your new bridge. We also suggest cleaning the spaces between the tip of the gums and the bottom of the bridge, where food particles could accumulate. Every six months, we will want to examine your smile to watch for the development of issues that could cause tooth loss such as infection or gum disease. We also clean the teeth, removing plaque and tartar from your entire smile. If you have any questions about how we craft and place a custom prosthetic, or about addressing or preventing tooth loss, then contact our team today to learn more.
Do You Have Questions About Prosthetic Dental Care?
Don't live with tooth loss, instead talk to our team about a lifelike and durable solution. We can use a bridge, partial, or full denture to create a prosthetic that looks and functions like a natural tooth. To learn more about replacing your missing teeth, then schedule a consultation by calling Jeffrey Leibowitz, DDS, in Astoria, NY, today at 718-728-8320.