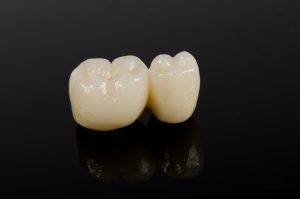 When you have missing teeth, this means unsightly gaps in your smile. To avoid problems with function and appearance, you need to fill the gap with a prosthetic. For minor tooth loss, your Astoria, NY, dentist is ready to create and place a fixed dental bridge, one that is crafted from lifelike and dependable materials.
The Risks of Only One Missing Tooth
Tooth loss could mean serious trouble for your smile, even if you lose only one tooth! For example, this new gap in your smile could eventually upset the balance of surrounding teeth, causing dental misalignment. The strain of misalignment and the loss of a tooth then impacts the jaw joints and overall bite balance, so the onset of complications like TMJ disorder and bruxism (teeth grinding) become more likely. To preserve the beauty of your smile, and safeguard overall health and function too, you should address a missing tooth as soon as possible.
The Benefits of Custom-Made Prosthetics
We prescribe a dental bridge to help address between one and up to three missing teeth in a row. The custom prosthetic will fit comfortably, and also be designed to look natural, ensuring you smile with confidence. We also take bite balance into account to prevent strain and complications down the road. To create one, we first administer a numbing agent and then remove structure from the teeth on each side of the gap. Known as abutment teeth, these will receive the crowns that anchor the bridge.
We take detailed impressions of these teeth with digital technology, using the information in a dental lab setting to design and craft the finished product. When the prosthetic is ready, you will attend your second visit!
Placing Your New Dental Bridge
The bridge itself will consist of new teeth, known as pontics, with crowns connected to each end. The crowns and pontics will be crafted from ceramic or other lifelike, durable materials, which we color match to blend with your smile. We place the crowns onto the abutment teeth, securing them with a bonding agent. On average, your new teeth could last up to 15 years. You will need to brush and floss them, and clean the space between the top of the gums and the bottom of the bridge. Routine care not only safeguards your natural teeth, but keeps the abutment teeth strong and ensures your teeth are here for many years to come.
Do You Have Any Questions About Tooth Replacement?
We would like to make sure tooth loss doesn't lead to problems with the health and beauty of your smile. To learn more about how our team addresses missing teeth, then schedule a consultation by calling Jeffrey Leibowitz, DDS, in Astoria, NY, today at 718-728-8320.