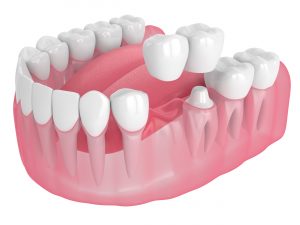 When you suffer from a minor case of tooth loss, then you could benefit from a dental bridge. In today's blog, we're going to look at how your Astoria, NY, dentist decides to prescribe a fixed bridge, and the steps necessary to ensure one that looks natural and lasts for many years to come.
Don't Live With Missing Teeth
The goal of a bridge is to address more minor cases of tooth loss, usually between one and up to three missing ones in a row. We want them to return function and beauty to your smile once again. Otherwise, missing teeth could mean issues with the health, function, and appearance of your smile. For example, you could develop misalignment due to these gaps, which means the negative impacts on appearance, and also the onset of cavities and periodontal disease. The strain on the jaw joints and bite balance due to tooth loss has been connected to issues like TMJ disorder and bruxism, both painful jaw joint disorders linked to headaches and damaged teeth. Finally, you could experience difficulties speaking clearly, or even eating your favorite meals.
Designing Your Prosthetic
To start the process, we will administer a numbing agent and then gently remove structure from the natural teeth on either side of the gap in your smile. Next, we take a series of detailed digital scans and measurements of the area. We use this information in a dental lab setting to design and fabricate the finished product. A bridge contains new teeth, referred to as pontics, and has crowns connected to each end. We craft them from materials such as porcelain, which ensures they absorb bite forces and can also be color-matched to blend with your smile. Material like porcelain also contain stain-resistant materials too.
Placing Your Prosthetic
When your prosthetic is ready, you return to the office. We check the fit, make any necessary adjustments, and then place then crowns onto the prepared abutment teeth. This secures the new bridge in place, returning function and beauty to your smile. You can eat your favorite foods again! The prosthetic will last about 10 to 15 years on average before requiring replacement, as the shape of your jaw ridge will change with time.
Keeping Your Smile Full
To preserve them, be sure you brush and floss them just as you would your natural teeth. Also, clean the spaces in between the top of the gums and the bottom of the prosthetic, where food particles could accumulate. Routine care helps prevent gum disease and infection, issues that could compromise your new smile.
Do You Have a Missing Tooth?
Our team wants to help you maintain a strong and lifelike smile by addressing your missing teeth. To learn more about treating tooth loss with a durable and attractive dental prosthetic, then schedule a consultation by calling Jeffrey Leibowitz, DDS, in Astoria, NY, today at 718-728-8320.