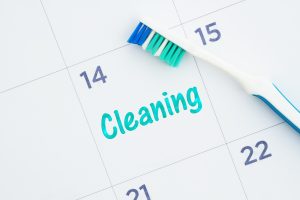 We suggest a visit every six months to have your smile thoroughly examined. But what makes the exam process so accurate and precise, and why should you schedule one every six months? In today's blog, your Astoria, NY, dentist discusses the importance of receiving a checkup twice a year, and what makes our diagnostic process so accurate!
The Checkup Process
An exam is a great opportunity for our team to look at your smile for signs of developing issues, addressing them before they grow more severe and threaten the stability of your smile. In fact, we could often uncover issues before they even cause discomfort! Remember, serious problems like tooth decay and gum disease take several months to form, which means an exam twice a year like clockwork lets us catch them early, and address them quickly. You could avoid cavities and infections, and we could prevent gum disease by reversing inflammation in the earliest stages. We also screen for oral cancer as well!
Employing Digital Technology
Along with a visual exam of your smile, we will employ digital technology too. Digital x-rays use 90% less radiation, and the images don't require a lengthy development time in harsh chemicals. Instead, they're available right away chairside. This shortens the diagnosis time, and helps us obtain clearer, more detailed images of your teeth, roots, and oral structures. We also use intraoral cameras to take detailed images of the surfaces of your teeth for signs of decay, or wear and friction. We can walk you through the process, and help you gain a better understanding of the state of your smile.
What Happens Next?
After your exam, we will clean your teeth. A dental cleaning means we remove all plaque and tartar from the surfaces of your teeth. This process not only means brighter teeth and fresher breath, but a reduced risk of cavities and periodontal disease. If we uncover issues that need attention, then our team will create a personalized treatment plan to address your problems. We have lifelike restorations, and advanced technology to help manage periodontal issues. If you have any questions about the process of examining your smile, or if you would like to schedule a checkup and cleaning for you or a member of your family, then contact our team today. We would love to help you and your loved ones continue to enjoy your best possible smiles for years to come!
Do You Need to Schedule a Checkup?
We would like to help you and your family continue to enjoy optimal oral health. To learn more about how we keep smiles strong with a dental exam and a professional cleaning, then schedule a consultation by calling Jeffrey Leibowitz, DDS, in Astoria, NY, today at 718-728-8320.