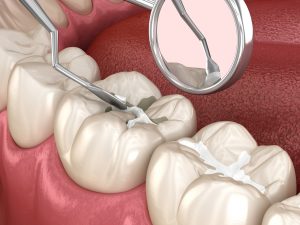 When you have a cavity, we use a filling to treat the issue, preventing further discomfort and helping you avoid complications like infection or abscess. But what materials do we use? In today's blog, your Astoria, NY, dentist will explain how we use composite resin to craft a filling that looks natural and lasts for years to come.
Metal vs. Composite Resin
While effective, metal does have a few drawbacks. For example, amalgam may not be the safest option for young children, pregnant women, or the elderly, and is problematic for those with metal allergies too. However, since composite resin is a blend of glass and acrylic particles, the material is safe for people of all ages. Since the material doesn't change shape due to time, temperature, and other factors, the risk of re-infection or replacement is significantly decreased with a composite resin option. Finally, the material can also be color-matched, which means we tint the composite resin to blend with your smile and offer a lifelike appearance.
When We Prescribe One
We suggest one for cases of tooth decay. If you experience a sensitivity to hot or cold foods and drinks, or notice a persistent toothache, then let us know right away. With advanced digital technology, we will carefully examine your smile to assess the cause and severity of your decay. For most cases, we prescribe a dental filling. However, if the decay is severe, we may need a crown, or even a root canal to extract infected tissues from within the tooth.
Placing Your Dental Restoration
We start by administering a local numbing agent to ensure you feel comfortable throughout the procedure. Next, we need to carefully remove all decay from the tooth. Afterward, we will prepare and place the composite resin material to the tooth. We gently shape and sculpt it before curing the material with a special light. We check the balance of your bite and may adjust the filling to ensure a proper bite balance, which ensures you remain comfortable and helps avoid complications like TMD or bruxism. The final step involves polishing the tooth for a more lifelike appearance. The entire process only takes one visit, and helps you avoid the need for root canal therapy or other treatments that address advanced decay or infection.
If you have any questions about treating dental cavities with a lifelike dental filling, then contact our team today.
Do You Have Questions About Our Restorations?
We would like to help find the right solution for your cavity, so you avoid infection or tooth loss. To learn more about how we treat issues like tooth decay, then schedule a consultation by calling Jeffrey Leibowitz, DDS, in Astoria, NY, today at 718-728-8320.