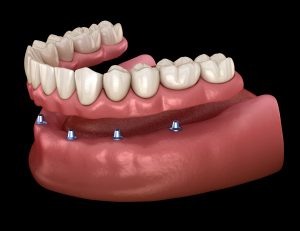 When you lose most of your teeth, this could impact how your smile looks and functions. To restore the function and help you enjoy a stronger smile again, we may suggest a set of dentures. In today's blog, your Astoria, NY, dentist will explain how we create custom dentures to address tooth loss and improve the beauty and function of your smile.
The Impact of Advanced Tooth Loss
When you lose a substantial number of your natural teeth, this could often mean trouble eating and limit the types of meals you can enjoy, as well as your nutritional intake. For others, trouble speaking could cause major problems for your social life. The lack of roots means the jawbone goes without regular doses of calcium and phosphorus, so the tissue breaks down and you develop a noticeably aged appearance. Not to mention the strain on your jaw joints, which could mean the onset of painful disorders like TMD and bruxism (chronic teeth grinding). To avoid these complications and restore your quality of life, you may benefit from the placement of a set of dentures!
Partial Dentures
If you have enough teeth remaining that a full denture isn't necessary, but the multiple gaps spread out across your smile make placing bridges difficult, then we could suggest a partial. The prosthetic is designed to address multiple gaps across an arch, and contains new teeth set in a base that looks like gum tissue. Metal clasps will attach to natural teeth to anchor the prosthetic, and will be invisible when the prosthetic is in place. The prosthetic is created based on detailed impressions and images to ensure a natural appearance, and a comfortable fit. They will last about 5 to 10 years before requiring replacement, as your jaw ridge will change shape with time.
A Complete Denture
A full set replaces every tooth on one or both arches. We may need to remove a few remaining teeth and take detailed images and impressions of your smile. We use the images to design and complete your new prosthetic. For the upper arch, a special adhesive will help keep your new denture in place. For the lower arch, we could use natural suction to ensure they remain stable. As with partials, they will last about 5 to 10 year before requiring replacement as the shape of your jaw ridge changes. If you have any questions, then give our team a call today!
Ready to Enjoy a Complete Smile Again?
We want to help you enjoy a full smile, one that looks great and helps you smile with confidence. To learn more about improving overall smile function with a custom prosthetic, then schedule a consultation by calling Jeffrey Leibowitz, DDS, in Astoria, NY, today at 718-728-8320.