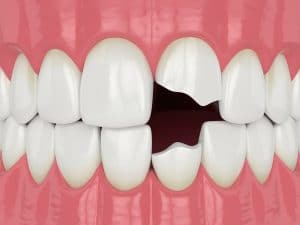 When you chip a tooth, then you have a cosmetic issue that could also impact the health and even the stability of your tooth. To address the damage and offer esthetically-pleasing results, your Astoria, NY, dentist may suggest a cosmetic treatment known as dental bonding. How does bonding repair a tooth, and what other advantages does this treatment offer?
The Dangers of an Untreated Chip or Crack
When a tooth receives a chip or a small fracture, this could mean more than complications for smile beauty. The damage could potentially compromise a small portion of protective enamel, exposing the inner dentin to bacteria. A cavity can then form, and if the damage exposes the pulp, a dental infection. Tooth sensitivity and toothaches could arise, as could the risk of complications linked to tooth loss. When you damage a tooth, rinse with warm water and use cloth or gauze to control any bleeding. Give us a call to schedule an emergency visit. A cold compress or ice pack can reduce facial swelling, and you can take an over-the-counter pain reliever as well.
The Dental Bonding Process
In many cases, we can repair the damage with the cosmetic bonding process. We start by thoroughly cleaning the tooth and then gently etching the surfaces. We dry the surface and apply the composite resin material. A blend of both glass and acrylic, this is a metal-free combination that we tint to blend with the rest of your tooth structure. After we apply the material in several layers, we begin sculpting and molding the tooth. A special light will cure the material, and we complete the procedure by polishing your smile for a brighter appearance. The entire process only takes one visit to complete!
Other Esthetic Benefits
The treatment can not only repair minor chips and cracks, but also give length to teeth worn down by bruxism (teeth grinding). We can mask the permanent teeth stains that may not respond to teeth whitening, and also close embarrassing gaps or black triangle spaces between the teeth. For some, we may combine this with teeth whitening and porcelain veneers to give a smile makeover!
Use Your Benefits!
The end of the year is approaching rapidly. Before you get bogged down in holiday preparations, schedule a visit to receive any treatment you may need. You have a chance to use your 2020 dental insurance benefits, or your health savings funds, before they expire at the end of December.
Do You Have Questions About Cosmetic Dental Care?
Our team understands the value of an attractive smile, and know that cosmetic care could also help address restorative concerns too. To learn more about addressing common cosmetic concerns, then schedule a consultation by calling Jeffrey Leibowitz, DDS, in Astoria, NY, today at 718-728-8320.