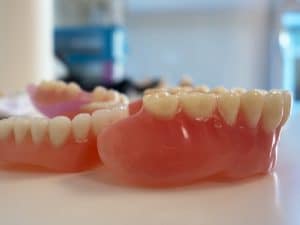 If you have lost most of your teeth, or all of them, this impacts everything from your ability to speak to what foods you can enjoy. However, to help restore function (and beauty) to your smile, your Astoria, NY, dentist can create a prosthetic that looks natural and restores your ability to eat your favorite foods again.
The Dangers of Losing All (Or Most) Of Your Teeth
When we lose our teeth in a significant number, this could prevent us from eating a variety of foods. You're not only deprived of your favorite meals, but also access to key vitamins and nutrients, impacting overall oral health. You could also experience difficulty speaking clearly, and this embarrassment could affect your social life. The pressure on your jaw joints due to bite imbalance and stain caused by tooth loss could lead to painful TMJ disorder and bruxism (teeth grinding). Finally, the body suspending the flow of calcium and phosphorus to the jawbone tissue around the lost tooth could mean an aged appearance and collapse of your facial structure.
Crafting Your Custom Prosthetic
To begin, we take detailed impressions, images, and measurements of your teeth, jaw, and oral structures. We may also need to extract the remaining tooth/teeth. Using the information we collect, we design and fabricate the prosthetic portion. This part contains an acrylic base that mimics the appearance of gum tissue, as well as a full row of durable and strong teeth crafted from ceramic. We tint them to ensure a natural appearance. Each one is custom-made to ensure a precise fit and lifelike appearance.
Removable and Implant Secured
We typically offer two different versions. The most common is removable, meaning the prosthetic is held in place with suction or possibly the assistance of a special adhesive. They tend to last about five years, requiring replacement as the jaw ridge changes shape. However! The implant version, which we attach to the implant posts inserted into the jawbone, are fixed in place. They also stimulate the growth of jawbone tissues to avoid facial collapse and allow your denture to last decades, potentially even a lifetime! The prosthetic will never slip when you eat or speak, and you don't have to take them out for cleaning and soaking. If you have any questions about how we address tooth loss, or if you would like to learn how to avoid losing your natural teeth, then contact our team today.
Ready for a Complete Smile Again?
Our team understands how to create a denture that fit comfortably and restores function and beauty to your smile. To learn more about our lifelike dental prosthetics, then schedule a consultation by calling Jeffrey Leibowitz, DDS, in Astoria, NY, today at 718-728-8320.