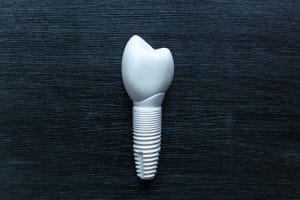 A dental implant is an excellent solution for tooth loss, whether minor or severe. But the implant is actually the root portion. How does your Astoria, NY, dentist ensure your new tooth looks natural and absorbs every day bite forces? In today's blog, we're going to talk about how we create and place natural-looking implant restorations.
Dental Implant Placement and Restoration
Our team will carefully examine your smile to assess your candidacy and choose the optimal placement area. The implant portion will then be inserted into the jawbone through oral surgery, bonding with the bone tissue like a natural tooth. Known as osseointegration, this process ensures the tooth provides the same stability and security as a natural one. However, as we touched on above, this only addresses the root portion. The visible portion will be separate and added once osseointegration has taken place. Using detailed impressions we take of the smile, we will design and create a custom-made dental crown. An abutment will attach the crown to the dental implant. We often create them using ceramic, a very durable material that can be shaded to match the color of surrounding teeth and also contains stain-resistant properties.
Qualifying For Treatment
We talked above about assessing your candidacy. When we lose our teeth, the body stops supplying key nutrients to the jawbone around the lost teeth, causing the bone tissue to deteriorate. The loss of mass and density in the jawbone can make placing a dental implant difficult, and if we find lost jawbone density, we may recommend a bone grafting procedure. Our team is also watching for periodontitis, the advanced stage of gum disease that leads to adult tooth loss and implant failure. You may need treatment to manage the disease before moving forward with tooth replacement.
Long Term Oral Health Benefits
When you address the gaps in your smile, you reduce the risk of misalignment developing and also restore your ability to smile with confidence, eat your favorite foods, and communicate clearly. Since dental implants act as new tooth roots, this causes the body to resume the flow of nutrients to the jawbone, preserving your facial structure and preventing the loss of additional teeth. Unlike dentures and bridges, an implant-secured replacement tooth could last for decades, possibly even a lifetime. If you have any questions about the long-term benefits of tooth replacement, or if you've lost one or more of your natural teeth, then please contact our team today.
Let's Treat Your Tooth Loss
For patients with one or more missing teeth, we have a secure and long-lasting solution. For more information on our lifelike dental implants, then schedule a consultation, call Jeffrey Leibowitz, DDS, in Astoria, NY, today at 718-728-8320.