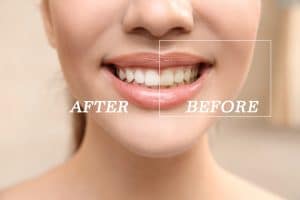 Have you noticed your teeth becoming dulled due to discoloration? Stains form over time as a result of poor oral hygiene habits and what we eat and drink. However, your Astoria, NY, dentist can help brighten your smile with professional teeth whitening. In today's blog, we're talking about how we remove stains with custom-made trays and bleaching gel.
At-Home Teeth Whitening
While many products in stores promise stunning results from home, they don't deliver a smile brightened by several shades the way our professional system will. Everything starts with a brief office visit, in which we take detailed impressions of your smile to create a set of plastic trays. We then send you home with these trays, and a powerful bleaching gel, to begin your treatment.
At home, the trays will be filled with gel and worn for about a half hour to 45 minutes a day. The trays not only fit comfortably, but help ensure even results. After a week to ten days, depending on the cause and extent of your discoloration, you could enjoy a smile brightened by up to eight shades. The trays are yours to keep for touch-ups down the road.
Steps to Keep Teeth Bright
Often, a few simple changes to your daily routine could help your teeth stay brighter for longer. For example, brushing your teeth twice daily for two minutes, and flossing before bed each night, remove food particles that would otherwise feed bacteria and cause plaque buildup. Plaque is a major factor in the appearance of discoloration. You also fight plaque (and cavities) by cutting back on sugary foods and drinks. We suggest seeing our team every six months for a cleaning too, so we can remove plaque and tartar from your smile to brighten teeth and lower the risk of cavities and gum disease.
Masking Permanent Discoloration
Some stains don't form on the surface of our teeth, instead they develop underneath the enamel. Known as intrinsic stains, they can be difficult to remove with even professional systems. But don't worry, we can still brighten your smile, masking these stains with dental bonding or even custom porcelain veneers. If you have any questions about our options for removing or masking discoloration, or if you would like to learn more about better daily care, then contact our team today. We're open for cosmetic treatment again and we would love to help you obtain the smile you've dreamed about!
Do You Have Questions About Cosmetic Dental Care?
With our cosmetic trays and gel, we help people enjoy brighter smiles in as little as one to two weeks. To learn more about our cosmetic treatment options, then schedule a consultation by calling Jeffrey Leibowitz, DDS, in Astoria, NY, today at 718-728-8320.