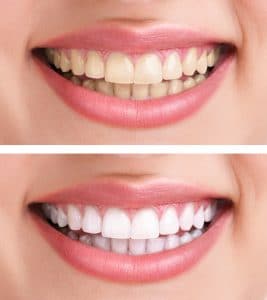 There are plenty of options available in stores that can brighten your smile from home. However, they don't offer the same level of whitening as professional systems, and the results rarely last very long. However, your Astoria, NY, dentist provides a home-based whitening treatment that can often brighten smiles by several shades, with results designed to last for months.
How Does the At-Home System Work?
To begin, you will need to stop by the office briefly so we can take detailed impressions of your smile and create a custom-made set of plastic trays. We then prescribe a bleaching gel, which you take home with you as well. At home, you will fill the custom trays with gel and wear them. The trays will fit comfortably and ensure the gel is spread evenly across your teeth. The gel then begins to break up stains and brighten teeth. They should be worn for about 30 to 45 minutes each day, and the total treatment time will usually fall between a week and ten days. For some, smiles could be brightened by several shades.
Why Are My Teeth Stained?
Did you know that when you consume foods and drinks high in sugar, the particles left behind on the teeth will be consumed by bacteria, causing plaque buildup? Not only does plaque increase the risk of tooth decay and gum disease, but this buildup also makes stains more visible. Beverages with dark pigments, such as coffee, red wine, tea, and soda can also stain your teeth, as can tobacco products, such as cigarettes. Poor oral hygiene is another factor behind stained smiles, as lack of proper care means more plaque accumulation.
Reducing Discoloration in the Future
You can keep your trays and any leftover gel for touch-ups down the road. But in addition, be sure you're brushing your teeth twice daily for about two minutes, and that you're flossing every night before bed. Make time to see us so we can clean your smile, which removes all plaque. Try to drink more water and eat healthier food and snack options. Quit smoking if you haven't already. Not only will these steps ensure a brighter smile, but they also improve overall oral health as well! If you have any questions about avoiding dental discoloration, or if you would like to learn more about our cosmetic whitening options, then contact our team today. We would love to help you enjoy a brighter smile!
Let's Remove Your Teeth Stains!
We want to brighten your teeth with a professional treatment option and help you maintain an attractive smile with preventive and general care. For more information on our cosmetic solutions, including teeth whitening, then schedule a consultation, call Jeffrey Leibowitz, DDS, in Astoria, NY, today at 718-728-8320.