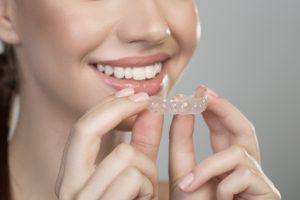 We offer cosmetic dentistry to help our patients in Astoria, NY, enjoy brighter and more attractive smiles. For those with discoloration, we may suggest teeth whitening with a unique system that can be used from home. How does our teeth whitening system work and what benefits do our trays and bleaching gel offer?
Why Do Our Teeth Become Stained?
First, let's talk about teeth stains. Why do our smiles develop discoloration? Well, plaque buildup will often make stains more apparent, and may arise due to poor oral hygiene and/or a diet high in sugar and starch. Consuming beverages that contain dark pigments, such as coffee, tea, soda, fruit juice, and red wine could also discolor teeth. Teeth stains may form below the surface of the tooth, known as intrinsic discoloration, due to injury, fluorosis, or even exposure to tetracycline at a young age. Part of the whitening process involves identifying and assessing the cause and severity of your stains.
Whitening Teeth from Home
For surface stains and minor intrinsic discoloration, we may suggest our professional teeth whitening procedure. We first take detailed impressions of your smile, which we use to design and fabricate a set of plastic trays. The patient then receives a powerful bleaching gel. At home, the patient will place gel into the trays and wear them daily for one to two weeks. Each day, they will typically be worn between 30 and 45 minutes. Over time, they break up stains and may help brighten smiles by several shades.
Should you have severe intrinsic stains, which may be difficult to remove with teeth whitening, we can discuss bonding, veneers, or a combination of the two to mask stains and brighten your smile in as little as two visits.
Preventing Serious Discoloration Down the Road
Once you obtain a significantly brighter smile, you'll obviously want these results to last. To limit future cases of discoloration, we suggest brushing and flossing daily to control the amount of plaque buildup that accumulates on your smile. You should also see the dentist every six months for a cleaning, in which we remove plaque and polish the teeth. Using your trays and remaining gels for touch-ups is also possible. At home, consider cutting back on sugary foods and drinks with dark pigments, which helps limit plaque, stains, and also promotes a healthier overall smile. If you have any questions about our approach to cosmetic dentistry, then contact our team today.
Do You Have a Stained Smile?
If you have stains on your teeth, then we have a number of possible treatment options. For more information on our cosmetic dental treatments, then schedule a consultation with us by calling Jeffrey Leibowitz, DDS, in Astoria, NY, today at 718-728-8320.