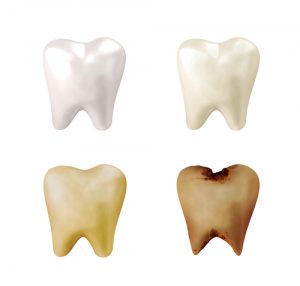 In our past few blogs, we've been taking a look at cosmetic dentistry. Many of our cosmetic treatments are designed to address teeth stains in one form or another, either removing them or masking them. But how do you avoid the onset of teeth stains completely?
Frequently Asked Questions About Avoiding Teeth Stains
Question: Will brushing and floss help keep my smile bright?
Answer: Yes! When you brush and floss, you help control the amount of plaque that remains on the teeth. A bacterial byproduct, plaque can make the appearance of stains more apparent. In order to maintain a brighter (and healthier!) smile, you should brush your teeth twice a day and floss once a day.
Question: Do I need to have a dental cleaning?
Answer: Yes! While brushing and flossing can help limit the amount of plaque on the teeth, only a dental cleaning can completely remove plaque and tartar (calcified plaque) from the teeth. You should have your teeth thoroughly cleaned every six months. After each procedure, we will also polish the teeth for a brighter appearance!
Question: Does it matter what I eat?
Answer: When you eat foods high in sugar and other starches, bacteria can break down the sugar particles left behind on the teeth. The process of consuming these particles can lead to an elevation in oral acidity, as well as plaque buildup and a greater risk of discoloration.
Question: Will certain drinks stain my teeth?
Answer: Yes! Drinks that contain dark pigments, such as soda, red wine, fruit juice, coffee, and tea can all make the onset of discoloration more likely. However, if you cut back on these drinks, or just rinse your mouth with a little water afterward, you can help your smile stay bright. If you have any questions about maintaining a brighter smile, then contact our team today.
Interested in a Brighter Smile?
At Jeffrey Leibowitz, DDS, we can discuss options to keep your smile bright and beautiful. We've proudly served our patients in Astoria, NY (including Queens, Manhattan, Brooklyn, and all surrounding communities) since 1991. To schedule an appointment with Dr. Leibowitz, call our office in Astoria today at 718-728-8320.