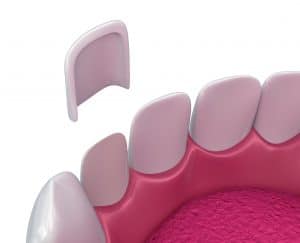 If you have multiple issues with the appearance of your smile, your Astoria, NY, dentist may offer dramatic smile improvement with one or more porcelain veneers. These custom and lifelike restorations can address a wide array of esthetic issues, transforming your smile's beauty in as little as two visits. In today's blog, we're going to look at how we create and place them, and what benefits they offer for our patients.
What Does A Veneer Do?
A veneer is a very thin restoration that covers the front and sides of the teeth, allowing us to address multiple esthetic concerns all at once. For example, placement could repair minor cracks or chips, reshape malformed teeth, and even lengthen teeth worn-down as a result of bruxism (teeth grinding). We've closed embarrassing gaps between the teeth, and also masked permanent teeth stains, which could otherwise not respond to most teeth whitening treatments. If you have minor misalignment, we could correct the appearance of the smile and avoid the need for braces or aligners!
Creating and Placing Your Restoration
We create them based on detailed impressions we take of the teeth receiving them. We use the measurements and digital images to help design and fabricate the final product. When you return for a second visit, we check the fit and make any necessary adjustments to ensure a proper and comfortable fit. Finally, we place them with a powerful bonding agent, which secures them for decades to come. To keep them strong, be sure you take care of the teeth we've attached them to, which means daily brushing and flossing, a healthier diet, and routine visits every six months for checkups and cleanings!
Preparing Your Smile
Prior to placement, we take steps to prepare your smile. First, we may whiten your teeth to ensure your restorations match your brightest possible smile. We then remove a thin layer of enamel to make room for them prior to taking impressions. For a more cost-effective smile makeover, we may reserve veneers for the front-facing teeth, and use dental bonding to address esthetic concerns on the side and rear teeth. If you have any questions about how we identify and treat cosmetic issues, or how we create a set of lifelike veneers and place them, then contact our team today to learn more. We want to help you obtain a stunning smile you can't wait to show off to the world!
Do You Have Questions About Cosmetic Treatment?
Cosmetic dentistry allows our team to improve the appearance of your smile, in as little as one to two visits. To learn more about addressing your smile's flaws, then schedule a consultation by calling Jeffrey Leibowitz, DDS, in Astoria, NY, today at 718-728-8320.