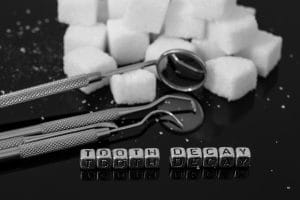 Over time, poor oral hygiene and other factors could weaken the protective layer of enamel coating your teeth. A cavity then forms, which could cause discomfort and increase the risk of infection. In today's blog, your Astoria, NY, dentist looks at what makes decay form, and how you can help lower your risk of developing tooth decay.
The Causes of Tooth Decay
The enamel is the hardest substance in the human body, so what makes it deteriorate? When we consume foods and drinks high in sugar, and don't properly brush and floss, this leaves behind particles stuck between the teeth. Bacteria then break down these particles, a process that coats the teeth in plaque buildup. Plaque has been shown to weaken the outer enamel, eventually exposing the inner dentin to bacteria and causing tooth decay. The buildup is also linked to gum disease, as it causes gum inflammation too!
When to See the Dentist
At the moment, we're unable to see you for a checkup and cleaning, which would typically allow us to identify issues like tooth decay in the earliest stages. When we can safely open again, we would love to see you for an exam! Until then, you may not know you have a cavity until your teeth feel sensitive or ache, at which point the cavity is likely in a more advanced stage, one that could cause infection unless addressed immediately. Fortunately, we're still here with emergency treatment, so we can see you when you experience discomfort and then repair your tooth!
Treatment and Preventive Actions
If you have pain in your tooth, we can schedule an emergency appointment to treat the issue with a filling. Made from a lifelike and metal-free composite resin, the filling helps repair the tooth and prevents the onset of infections. The procedure also only takes one visit to complete! To help prevent the cavities, we suggest cutting back on sugary foods and drinks, and instead drinking more water and enjoying healthier snacks. Make time to brush your teeth when you wake up and again before bed. Each session should last two minutes, and use a fluoride toothpaste, which could help strengthen the outer enamel. Make time to floss each night before bed too! If you have any questions about preventing cavities, or if you have an aching tooth that needs attention, then please contact our team today.
Do You Have Questions About Avoiding Cavities?
We want to make sure you continue to enjoy optimal oral health and reduce your risk of developing cavities. To learn more about repairing and restoring your smile, then schedule a consultation by calling Jeffrey Leibowitz, DDS, in Astoria, NY, today at 718-728-8320.