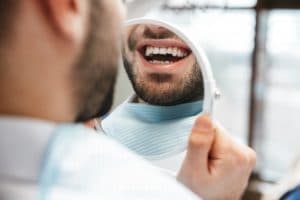 When a cavity forms, the issue only grows more severe with time until the very stability of our tooth is threatened. While we're closed to general and elective treatments, your Astoria, NY, dentist is still here to tackle your emergency concerns, such as an untreated cavity or infection! When does your tooth need a filling, and when should you contact our team for treatment?
The Factors Behind Your Aching Tooth
A minor toothache could form as a result of issues related to sinus and allergy troubles, or even changes in elevation or a sudden chill in the air. However, these aches pass after a few hours. If you have a toothache that has persisted for hours or days, then you may have an advanced cavity that needs treatment. Tooth decay forms when the outer enamel is weakened and eroded, often as a result of plaque buildup caused by poor oral hygiene. Injury to the tooth could also compromises enamel and leads to tooth decay as well. If you have persistent pain in your smile, please let us know!
Don't Let Cavities Turn Into Infections
We're still providing emergency treatment for patients in our community. For example, if you damage a tooth, let us know. In addition, be sure to contact our team if you notice your tooth feels sensitive or aches, as this could mean a cavity. As part of our emergency treatment, we can use a restoration like a composite filling to treat a cavity and prevent the onset of a painful dental infection, which could otherwise increase the risk of tooth loss! Remember, when you see us, our team will be following strict health and safety procedures to ensure you and our team members remain safe and healthy.
Dental Fillings
How does a filling stop a cavity? To start, we remove the decay from your tooth and thoroughly clean it. Next, we prepare the composite resin material, which is a metal-free blend of glass and acrylic we can shade to match your tooth's color. After we apply the material, we cure it under a light as we sculpt your tooth. Finally, we polish the tooth for a more attractive appearance. In a single visit, we can help you avoid the onset of infections and worsening discomfort, and also ensure your tooth continues to look natural! If you have any questions, then contact our team today.
Do You Have Questions About Restorative Dentistry?
Our team wants to make sure your smile stays whole and healthy with emergency care and restorative dentistry. To learn more about addressing problems like cavities or dental infections, then schedule a consultation, call Jeffrey Leibowitz, DDS, in Astoria, NY, today at 718-728-8320.