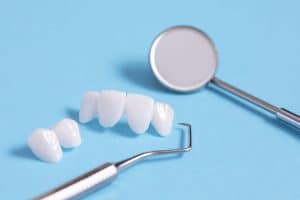 Losing your teeth could mean the eventual onset of serious oral health issues and complications. If you lose one to an emergency situation, such as having a tooth severely broken or knocked-out, then our team can help right away. If one is lost due to poor oral health, then as soon as our doors open again, we can provide prosthetic solutions. In today's blog, your Astoria, NY, dentist talks tooth replacement!
The Health Risks Associated with Tooth Loss
Did you know tooth loss impacts your oral health just as much as it does your smile's appearance? When we lose one or more teeth, then the gaps in your smile could make eating difficult and impact how clearly you speak. Teeth nearby the gaps could also shift, causing dental misalignment to occur and leading to a greater risk of tooth decay and gum disease. In addition, the pressure on your jaw joints could mean the onset of issues like TMJ disorder and bruxism (chronic teeth grinding). Finally, as your body takes notice of the missing tooth roots, the flow of nutrients to and from your jawbone is suspended. Without these nutrients, the bone tissue breaks down, leading to further tooth loss and an aged appearance!
Bridges
To prevent issues related to minor tooth loss, like embarrassment or misalignment, we can address between one and three lost teeth with a dental bridge. A dental bridge consists of replacement teeth with a crown on either end. The crowns will be placed on natural teeth sitting on either side of the gaps, securing the new teeth firmly.
Dental Implants
Instead of crowns, we actually insert a biocompatible titanium dental implant into the jawbone, where it bonds with the bone tissue and acts like a new tooth root. Afterward, we attach an abutment and crown to address the visible portion of your new tooth. The dental implant lasts much longer than most dental prosthetics, and also stimulates the growth of jawbone tissue to avoid an aged appearance.
Full and Partial Dentures
For more severe cases of tooth loss, we could create a denture. A partial addresses gaps spread out across the smile, consisting of the new teeth set in an acrylic base. Metal clasps then attach to the natural teeth to secure your denture. A full contains an entire row of teeth and is held in place with natural suction. In some cases, we can also support them with dental implants for greater stability. If you have any questions about tooth loss solutions, then contact our team today.
Do You Have Questions About Missing Teeth?
As soon as we can, we would love to help you address your missing teeth. To learn more about prosthetic dentistry, then schedule a consultation, call Jeffrey Leibowitz, DDS, in Astoria, NY, today at 718-728-8320.