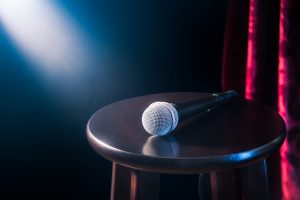 In today's blog, we're going to take a little break from our normal dental topics to focus more on our community. Find out what fun events will be happening this weekend in Astoria and throughout the month of November. If you want to greet the holiday season with a brighter smile, remember that we do have a number of cosmetic treatment options!
Community Events
Laugh It Up, Astoria: Enjoy a 5th anniversary celebration of Laugh It Up, Astoria at QED on November 7th from 9pm until 10:30pm. Admission is $10 and the venue is located at 27-16 23rd Avenue. There will be trivia, prizes, alcohol, and performances from Selena Coppock, Justy Dodge, Calvin S. Cato, and Jon Fisch. Receive a two dollar discount when you purchase tickets in advance!
Capturing the Artist: Robert Simon Fine Arts is hosting an exhibition of contemporary portraits at their gallery on the fourth floor of 22 East 80th Street. The exhibit opens on November 14th and be available to view through the end of 2019, Monday through Friday from 10am until 5pm. The gallery will feature portraits from renaissance artists to the latest 20th century works.
Kids Silent Disco: Quiet Events will be hosting a Kids Silent Disco and Parents Bottomless Brunch Party at Katch Astoria on 31-19 Newtown Avenue. The event takes place on November 16th from 11am until 3pm. Admission is $15 to $30. With admission, participants receive a pair of wireless headphones and can choose from 3 different DJs. A great event for the whole family to enjoy!
Black Friday Black Light Party: Quiet Events will be hosting a Black Friday Black Light Party at Katch Astoria on 31-19 Newtown Avenue on November 29th from 10pm until 3am. Admission is $5 to $15. There will be three different DJs to choose from, and each person wears a set of headphones and can receive black light face painting and more! A great way to enjoy a night out and actually be able to talk to the people you meet (and avoid those ringing ears afterward).
Talk to Our Team Today
Our team is ready to help you enjoy a brighter and healthier smile, sometimes in as little as one visit. For more information on our treatment options, then schedule a consultation, call Jeffrey Leibowitz, DDS, in Astoria, NY, today at 718-728-8320.