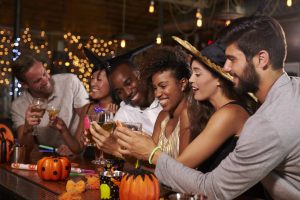 Have you made any big plans for Halloween? In today's blog, we look at some fun and spooky events happening in Astoria, NY, this month. In addition, if you worry about the appearance of your smile, then we may be able to offer cosmetic improvement before your next big community event!
Community Events
IT Halloween Party: An IT-themed Halloween party presented by Mtsproductions will take place at the Doha Nightclub on Saturday, October 26th on 38-34 31st Street, from 10pm until 4am. Enjoy a fun atmosphere, great drinks, and a chance to meet new people and celebrate the Halloween spirit in a unique way!
Halloween Bar Crawl: The Astoria Queens Halloween Bar Crawl will take place on Saturday, October 26th from 4pm until 9pm. Feel free to wear a costume, and enjoy drink specials, an exclusive after party invitation, and take part in a costume contest. Prizes include an MPC Premium Membership, a Starbucks card, and much more! A schedule of the participating bars will be released the day of. A great way to celebrate the holiday with your friends and enjoy the sights and sounds of Astoria in the process.
Mile High Brunch: The Mile High Brunch and Day Party at Hangar Astoria will take place on 2843 Steinway Street from noon until 5pm. There will be amazing food, fun drinks, and a chance to enjoy a wonderful brunch with your friends, or to meet someone new.
Dog Park Pawty: Celebrate the opening of Astoria's newest dog park, the Triborough Bridge Playground C Dog Run, on Saturday, October 19th from noon until 2pm. The park is located at Hoyt Avenue South, on the corner of 24th street. The LGBT Network will provide doggy bags and water for free, but they will be on a first come, first serve basis. All dogs are welcome, so celebrate and enjoy a fun time with your four-legged friend.
Schedule Your Cosmetic Procedure Today
Our team would like to help you enjoy a beautiful new smile. For more information on correcting misalignment, brightening teeth, and other cosmetic improvements, then schedule a consultation, call Jeffrey Leibowitz, DDS, in Astoria, NY, today at 718-728-8320.