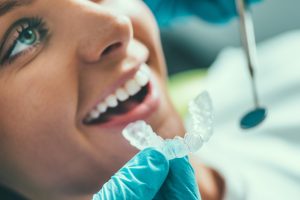 We understand how poor alignment can impact your confidence in you smile. Instead of resigning yourself to an uneven smile, or hiding your smile from friends and family, why not seek orthodontic treatment? We offer our Astoria, NY, patients much more than just traditional metal braces. In fact, we can often correct uneven teeth with clear braces!
What are Clear Braces?
Traditionally, the dentist or orthodontist places metal brackets onto the front facing sides of the teeth, then connects them with an arch wire. By adjusting tension in the arch wire, the teeth are repositioned over a period of about two years. However, with clear braces there are no brackets or wires. Instead, we use a series of clear aligners created from an acrylic material to reposition the teeth and correct misalignment, often in as little as one year. Treatment is appropriate for teens and adults alike, offering a barely noticeable solution to poor alignment, whether minor or severe.
The ClearCorrect System
First, let's talk a little more about the aligners. We create them based on detailed digital impressions and measurements we take of your smile. Each set is custom-made specifically for your smile. A set is worn for about two weeks, 20 to 22 hours every day. After a two-week period, the patient moves on to the next set, which helps improve alignment. They can be removed before meals, which means no more worries about food becoming stuck in your orthodontics. Taking them out before brushing and flossing also makes caring for your smile easier, and helps patients maintain optimal oral health throughout the treatment period. As long as you continue to wear them as the dentist recommends, you can also remove them for special occasions, such as graduations, job interviews or reunions, or even dates.
Long-Term Benefits of Correcting Misalignment
Obviously, you obtain a more attractive smile, one that could inspire confidence and improved self-esteem. However, treating poor alignment also remove places for food particles to become trapped, places that could be difficult to reach with a toothbrush and floss. Which means correcting misalignment reduces the risk of tooth decay and gum disease. Treatment also eases strain on the jaw joints, which decreases the risk of TMJ disorder and bruxism (teeth grinding) and helps you enjoy a healthier smile. If you have any questions about treating your crooked or crowded teeth, or if you would like to discuss our clear braces in particular, then please contact our team today.
Ready to Correct Your Misalignment?
If you suffer from poor dental alignment, then you may benefit from orthodontic solutions. For more information on clear and custom-made orthodontic aligners, or to schedule a consultation, call Jeffrey Leibowitz, DDS, in Astoria, NY, today at 718-728-8320.