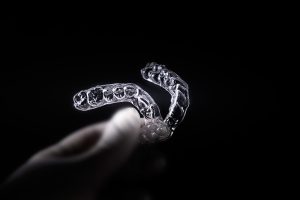 With crooked teeth or dental crowding, our oral health suffers (as does the appearance of our smile). In order to correct the problem and prevent the onset of oral health complications, we may suggest orthodontics. We offer our Astoria, NY, patients clear and comfortable misalignment treatment using our custom-made ClearCorrect aligners.

The ClearCorrect Difference
With traditional orthodontic solutions, the dentist or orthodontist attaches metal brackets to the front of the teeth and connects them with an arch wire. Typically, over a period of two years, the dentist adjusts the tension in the wire to move the teeth. However, for a more esthetically pleasing alternative, we have aligners. Made from a clear plastic, these aligners remain practically invisible while also repositioning your smile, reducing the risk of tooth decay, gum disease, TMJ disorder, bruxism, and other complications that arise due to untreated misalignment.
We create the aligners after taking detailed impressions of your smile with advanced digital technology. These impressions offer a detailed and accurate picture of your smile, allowing a dental lab to fabricate aligners that fit perfectly and adjust the position of your teeth with precision. Each set is custom-made specifically for your smile and to address your unique situation.
The Benefits of Clear Braces
First, they will be barely noticeable, making them a perfect choice for our patients. They also fit comfortably, preventing the gum and cheek irritation often encountered with metal braces. Patients also don't need to avoid sticky foods, which could become stuck in metal braces and increase the risk of stains and cavities. You can also remove them before brushing and flossing, enabling you to better care for your smile during treatment. Patients also take them out prior to special occasions, such as graduations. Finally, you have fewer office visits than you would if you had metal braces. If you would like to learn more about these benefits, don't hesitate to contact your Astoria dentist today.
Wearing Your Aligners
What does treatment involve? Patients should wear them daily as the dentist prescribes, which usually means wearing them between 20 and 22 hours each day. After about two weeks, you can upgrade to the next set. While they can be removed, as we mentioned above, obtaining optimal results in the original time frame discussed with your dentist means wearing them for the amount of time we discuss! If you have any questions about correcting misalignment, or about our ClearCorrect system, then contact our team today.
We can Correct Your Misalignment
If you have uneven smiles, then we may have a clear orthodontic solution. For more information on our clear aligners or our other cosmetic treatment options, then schedule a consultation with us by calling Jeffrey Leibowitz, DDS, in Astoria, NY, today at 718-728-8320.