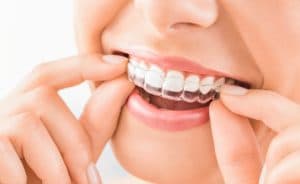 With ClearCorrect, we use a series of aligners made from a clear and comfortable plastic material to correct misalignment. But what should patients expect from this treatment in their day-to-day life? Let's look at what wearing the aligners involves and what patients in Astoria, NY should expect.
Eating and Caring for Your Smile
The aligners will be worn all day, every day. However, there are a few times in the day you can remove them. First, when you eat a meal you can take them out. With metal braces, you have to watch out for hard to sticky foods that become trapped in or even damage your orthodontics. However, you can just remove your aligners and continue to eat your favorite foods. You can also take them out before you brush and floss your teeth, which makes caring for your smile during treatment much easier.
Wearing as the Dentist Recommends
While you can take them out for meals, maintenance, or special occasions, you should also make sure you're wearing them as the dentist recommends. Otherwise, you may not see optimal results in the original timeframe the dentist quotes. You should wear them every day between 20 and 22 hours. If you do, you should be upgrading to a new set every two weeks as your smile is repositioned on schedule.
How Long Will Treatment Take?
The amount will vary, depend on the cause and extent of your misalignment (and whether you're wearing them as the dentist as prescribed). However, on average adults can expect about a year. Some cases may need up to 18 months, but regardless your treatment will still be shorter than the time it takes braces to reposition your smile. If you have any questions about ClearCorrect then contact our team today!
Do You Have an Uneven Smile?
At Jeffrey Leibowitz, DDS, we can help you enjoy a stunning new smile with clear orthodontics. We've proudly served our patients in Astoria, NY (including Queens, Manhattan, Brooklyn, and all surrounding communities) since 1991. To schedule an appointment with Dr. Leibowitz, call our office in Astoria today at 718-728-8320.