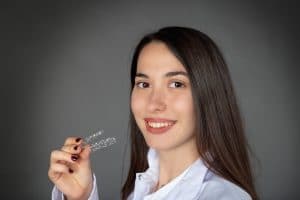 We know how uneven smiles impact the health and appearance of the teeth. We also know that many adults and teens feel apprehensive about wearing braces, worrying about how this will impact their appearance. Fortunately, we have cosmetic ClearCorrect aligners to offer Astoria, NY, patients straighter smile. In today's blog, we're going to discuss the benefits of clear aligners.
Creating Custom-Made Aligners
We first need to assess the cause and severity of your misalignment. We then take detailed impressions of your smile, which will be used in a dental lab to design our aligners. Each set will be custom-made for your smile, providing a comfortable fit and repositioning your teeth to correct misalignment.
What to Expect From Wearing Them
In order to see optimal results in the timeframe you discussed with the dentist, you need to wear them every day for between 20 and 23 hours. Approximately every two weeks you will upgrade to a new set as your alignment improves. Total treatment time varies, but usually takes about a year.
The Benefits of Correcting Misalignment
First, the aligners are barely visible, which means they don't impact the appearance of your smile during treatment. Next, you can remove them before you eat, which means you don't have to alter your diet during treatment. Being removable means brushing and flossing your teeth is much easier, improving oral health during the treatment process. Patients may also remove them before special occasions, such as a graduation. When worn, they don't cause the same gum and cheek irritation often encountered with metal orthodontics. If you have any questions about ClearCorrect, or if you would like to enjoy a more even and healthy smile, then contact our team today. We want to help you enjoy a healthier and more esthetically pleasing smile.
Do You Need Clear Braces?
Our team wants to help our patients enjoy an even and healthy smile with clear plastic aligners. You don't have to rely solely on metal braces to obtain a straighter smile. For more information, schedule a consultation with us by calling Jeffrey Leibowitz, DDS, in Astoria, NY, today at 718-728-8320.