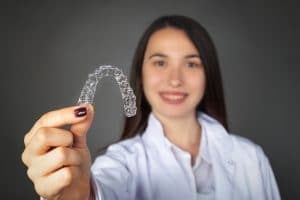 Did you know metal bracket and wires are not the only options for treating misalignment? With ClearCorrect, we have clear braces to reposition teeth and improve the overall health of Astoria, NY, smiles. Do you have questions about the ClearCorrect system?
Frequently Asked Questions About Clear Braces
Question: How does an uneven smile lead to oral health problems?
Answer: When we have teeth that crowd and overlap, then thorough brushing and flossing becomes difficult. Food particles become trapped between teeth and are broke down by bacteria, leading to plaque buildup and a higher risk of tooth decay and gum disease. For some, misalignment also leads to pressure on the jaw joints, as well as bite imbalance, causing TMJ disorder and bruxism.
Question: What makes clear braces different?
Answer: Metal braces are very visible. However, clear braces actually reposition teeth with a series of aligners made from a clear plastic material. The braces will be practically invisible when worn, making this option a popular choice for adults and teens.
Question: What will wearing the ClearCorrect aligners be like?
Answer: Each day, you will wear the aligners for between 20 and 23 hours. About every two weeks you will upgrade to a new set as your teeth are repositioned. You can remove them before you eat and before brushing and flossing as well.
Question: How long does treatment take?
Answer: The total treatment time will vary. For some, a straighter smile is possible in as little as a year, while others may need up to 18 months. Factors such as the cause and severity of misalignment impact the treatment time. Also, to see optimal results in the original time frame discussed with the dentist, you must wear the aligners as prescribed. If you have any questions about clear orthodontics, or if you think our aligners are the right choice for you smile, then contact our team today.
Do You Want to Try Clear Braces?
With ClearCorrect, we're ready to address your misalignment without metal braces. For more information, schedule a consultation with us by calling Jeffrey Leibowitz, DDS, in Astoria, NY, today at 718-728-8320.