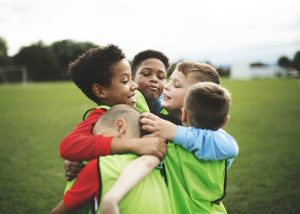 The holiday weekend is fast approaching! With that in mind, we would like to talk about the fun and exciting events taking place in the Astoria, NY, community this month. Find out what you and your friends or family can attend, and be sure to talk to your dentist about cosmetic care and other options to ensure you attend these events with a bright smile!
Community Events
City Starz Summer Soccer Camp 2019: Looking for a great way to keep your little ones active and encourage their athletic abilities? The City Starz Summer Soccer Camp will take place throughout the month of July, with courses for boys and girls from ages 4 to 14. The camp takes place at St. Johns Preparatory school on 21-21 Crescent Street. Participants receive a free t-shirt, soccer ball, and drawstring bag. There are discounts for siblings or multi-week sign ups.
Valerie Green/Dance Entropy Summer Intensive: Enjoy a summer dance intensive with Valerie Green/Dance Entropy from July 8th through the 14th at the Green Space on 27-24 24th Street, Suite 301. The intensive costs $472 and includes, yoga, ballet, modern dance techniques, choreography, and a performance lab. At the end, there will be a Final Show and Reception for participants and their families.
Queensboro Dance Festival: The Queensboro Dance Festival will take place at Bliss Plaza on Bliss Street and Queens Boulevard on July 11th from 5pm until 7pm. Admission is free and this show offers a chance to enjoy multiple dance troupes and performances from local artists. RSVP'ing is recommended!
Cat Adoption Event: Astoria Cat Rescue will be holding an adoption event at The Astoria Bookshop on 31-29 31st Street on July 13th from 1pm until 4:30pm. Author Peggy Gavan will be there to read and discuss her book, The Cat Men of Gotham: Tales of Feline Friendships in Old New York.
See Us For Treatment Today!
We would like to make sure you attend community events with an attractive and healthy smile. For more information on our treatment options, or to schedule a consultation, call Jeffrey Leibowitz, DDS, in Astoria, NY, today at 718-728-8320.