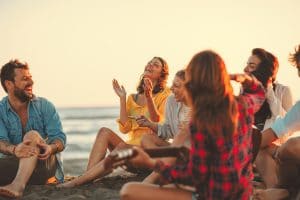 With summer heating up, there is plenty of fun happening in Astoria, NY. In today's blog, we're going to look at four upcoming events, from sock drives to free Pilates classes. Remember, if you want to attend fun community events with a brighter smile, our office offers a full range of cosmetic treatment options.
Upcoming Community Events
Summer Solstice Sock Drive: Take Two NYC is hosting a Summer Solstice Sock Drive on June 14th from 1pm until 10pm at SingleCut Beersmiths Taproom on 19-33 37th Street. When you bring a pair of new socks, you receive a free beer! The socks will be distributed to those in need on June 21st. Adult size XL is the recommended, and there is a limit of one beer per person.
Free Pilates Class: LIC Pilates and Hunter's Point Parks Conservancy will be hosting a free 45-minute class in the park on Sunday, June 16th at 10am. Hunter's Point South Park is located at Center Boulevard. No need to register beforehand, simply show up with a mat and some water! Classes help develop your core and flexibility, and this one is completely free!
Glow in the Dark Madness: Quiet Events is hosting Glow in the Dark Madness at Katch Astoria on 31-19 Newtown Avenue on Friday, June 14th at 10pm until Saturday, June 15th at 3am. Admission is $5 to $30. There will be 3 DJs performing, as well as glow in the dark face and body pain, glow sticks, black lights, and even glowing headphones. No loud music, as you control the headphones!
Family Silent Disco: Quiet Events is also hosting a family friendly silent event at LIC Landing on 52-10 Center Boulevard. The event takes place on June 16th from 6pm until 10pm. Admission is $10 to $20. Families receive headphones that allow them to switch between three DJs, as well as fun refreshments.
Ready for a Stunning Summer Smile?
We're ready to help you obtain a brighter smile this summer. For more information on our unique cosmetic treatment options, then schedule a consultation with us by calling Jeffrey Leibowitz, DDS, in Astoria, NY, today at 718-728-8320.