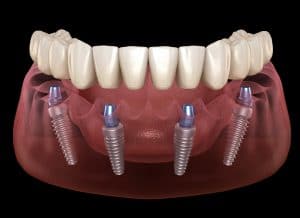 If you have a single missing tooth, then we may suggest a single tooth dental implant. But what if you have multiple missing teeth? Instead of relying solely on traditional bridges and removable dentures, we may actually use implant dentistry to provide a more secure and longer-lasting alternative. In today's blog, we're looking at how we place implant dentures in Astoria, NY.
The Dental Implant Difference
What makes a dental implant such a long-lasting and dependable means of tooth replacement is the fact they we insert them directly into the jawbone. Once we do, they bond with the jawbone through a process known as osseointegration, which helps secure them like natural tooth roots. They stimulate the growth of jawbone tissue, which prevents you from losing further teeth or developing an aged appearance. With the same routine care you would take to safeguard your natural teeth, you help your prosthetic remain stable and strong.
Dentures and Bridges
If you have between one and three lost teeth in a row, we may place a single tooth dental implant, or we may secure a bridge. An implant-retained bridge doesn't rely on crowns to hold them in place, which preserves more of your natural tooth structure. Instead, they have dental implants, which helps them last decades. If you have significant tooth loss, then we can secure a custom-made denture, offering a fixed prosthetic that will never slips when you eat or speak. Instead of requiring replacement every 5 to 10 years, these could provide tooth replacement for decades, possibly even a lifetime, just like the implant bridge option.
Preserving Your Smile
What can you do to preserve your new teeth, and protect the rest of your smile in the process? First, start simply by brushing and flossing your teeth daily, which removes food particles and reduces the risk of tooth decay and gum disease. You should brush twice a day for two months, and floss every night before going to bed. Also, try to enjoy a healthier diet and avoid cigarettes and other tobacco products. A routine visit for a checkup and cleaning enables our team to monitor your new tooth. The cleaning means removing plaque buildup, which reduces the risk of gum disease and cavities, protecting your smile from further tooth loss. If you have any questions about implant dentistry, or about the steps necessary to enjoy optimal oral health, then contact our team today.
Have You Lost One or More Teeth?
Don't let tooth loss impact your smile's health and appearance, talk to us about possible solutions. For more information on our lifelike solutions for missing teeth, including implant-secured dentures and dental bridges, then schedule a consultation with us by calling Jeffrey Leibowitz, DDS, in Astoria, NY, today at 718-728-8320.