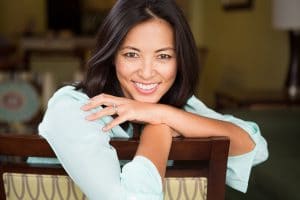 Cosmetic dentistry involves more than just teeth whitening. In fact, we often use cosmetic procedures to reshape damaged or malformed teeth, helping our Astoria, NY, patients enjoy more beautiful smiles. With bonding and contouring, we offer treatments that can transform a smile in just one visit. What should people expect from cosmetic bonding and contouring?
Dental Bonding
Dental bonding improves smiles using the same material as our tooth-colored fillings. We use the procedure to repair chipped teeth, mask the permanent teeth stains that might not respond to teeth whitening, and to fill gaps between your teeth. We also reshape malformed teeth as well. Since we can shade the material to match the rest of your tooth, the repairs look natural.
The procedure involves removing any decay and then thoroughly cleaning the tooth. We next gently etch the tooth, which allows the material to remain on the tooth as it cures. We apply the composite resin in several layers, then sculpt the tooth as these layers cure under a light. We complete the procedure by polishing your teeth, which helps offer a more lifelike appearance. The entire procedure only takes one visit to finish, allowing you to leave with an esthetically-improved smile.
Dental Contouring
Contouring can also be completed in one visit, and often, in the same visit as bonding. With this procedure, we actually buff away small segments of outer tooth structure. Doing so helps remove pits or grooves in the outer tooth structure and corrects overly pointed teeth. We also reshape malformed or damaged teeth, improving esthetics in a single visit. We help you enjoy a more lifelike smile.
Don't Ignore That Chipped Tooth
If you chip a tooth, first try to gather any pieces you can and bring them to the office. If you can't, don't worry, we will still repair the tooth. We have emergency dental services to repair the tooth. In route to the office, you can use a cold compress against the side of the face to reduce swelling and cloth/gauze to stem bleeding. Seeing the dentist to repair a damaged tooth is essential, as even minor damage could potentially expose the inner tooth structure to harmful bacteria, leading to tooth decay and infection, as well as serious discomfort. Repairing the tooth prevents serious complications and also safeguards the health and beauty of you smile. If you have any questions about bonding and contouring, or about addressing chipped teeth, then contact our team today.
Ready for Cosmetic Dentistry?
Our team is ready to help you enjoy optimal smile beauty with cosmetic dentistry. For more information on our treatment options, then schedule a consultation with us by calling Jeffrey Leibowitz, DDS, in Astoria, NY, today at 718-728-8320.