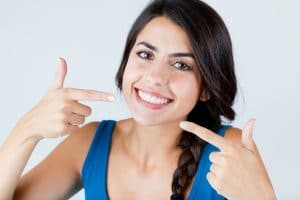 We have an array of cosmetic issues designed to improve the appearance of your smile. From lifelike crowns to professional teeth whitening, we can help you obtain a smile you can feel proud to show the world. However, we also have procedures you might not be so familiar with, such as gum and tooth contouring. How does contouring improve your smile?
Gum Contouring
We can reshape the gum line to help improve the appearance of your smile. The presence of excessive gum tissue, or of an uneven gum line, can mean your teeth appear small or misaligned. Fortunately, we can use a radiosurgery unit to carefully remove the excess gingival tissue or reshape the gum line with accuracy and precision. The benefits of a radiosurgery unit include reduce swelling, little to no bleeding, no need for sutures, and a quicker healing time. There will also be a reduced risk of infection and you can return to your normal activities the next day.
Tooth Contouring
With tooth contouring, we gently buff away a small amount of surface structure. The procedure allows the dentist to reshape malformed teeth or repair minor damage. The dentist can also remove pits or grooves in the tooth surface or even dull teeth that are too pointed. The entire procedure can be completed in a single visit, helping you enjoy a more esthetically pleasing smile in a very short amount of time.
Bonding and More
What if you have more serious damage to your smile, or issues with the shape and color? In the same visit, we may be able to perform dental bonding, in which we use composite resin to build up lost structure, close gaps between teeth, or mask permanent discoloration. The material can be shaded to ensure it blends seamlessly with your smile. We can also place lifelike crowns or veneers.
Do You Need Contouring?
At Jeffrey Leibowitz, DDS, we can address cosmetic issues with your gums and teeth. We've proudly served our patients in Astoria, NY (including Queens, Manhattan, Brooklyn, and all surrounding communities) since 1991. To schedule an appointment with Dr. Leibowitz, call our office in Astoria today at 718-728-8320.