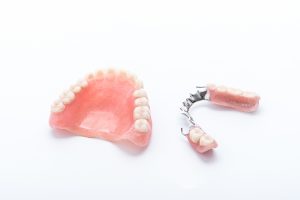 From injury to untreated gum disease, multiple factors could cause an adult to lose one or more natural teeth. When this happens, gaps appear in the smile and often lead to serious oral health complications. In order to preserve oral health and facial structure, people with missing teeth should see their Astoria, NY, dentist and talk about their dental prosthetic options.
The Health Risks of Missing Teeth
Why do gaps in our smile pose such a risk? Well, surrounding teeth may begin to drift from position due to these gaps, leading to the onset of misalignment. Poor alignment often means a greater risk of tooth decay and gum disease. For some patients, the lack of teeth places pressure on the jaw joints themselves, causing a greater risk of TMJ disorder and bruxism. With these jaw joint disorders comes a number of uncomfortable symptoms, from headaches and jaw pain to damaged teeth. The body also stops sending the jawbone around the missing teeth doses of calcium and phosphorus. Without these nutrients, the bone tissue deteriorates, causing further tooth loss and in some cases, an aged appearance. Not to mention, missing teeth could impact your ability to eat or speak clearly!
Bridges
For minor tooth loss, we may suggest a bridge, which addresses between one and three lost teeth in a row. A bridge consists of replacement teeth with crown attached to each end. We prepare the teeth on either side of the gap in your smile by removing tooth structure. We place the crowns on these teeth to anchor the new ones in place. The prosthetic will be custom-made using lifelike materials, offering 10 to 15 years of natural looking tooth replacement.
Full and Partial Dentures
For more advanced cases, we have dentures. A partial addresses multiple missing teeth, even if the gaps in the smile are spread out across the arch. Metal clasps on the prosthetic will attach to the natural teeth, securing your new ones in place. Full dentures rely on natural suction to stay in place and replace every tooth on one or both arches. Both options employ ceramic or zirconia to create lifelike teeth, and contain an acrylic base designed to mimic the appearance of gum tissue.
Implant Dentistry
A dental implant not only prevents misalignment and other complications of tooth loss, but also stimulates jawbone growth, allowing the body to resume the flow of nutrients to the jawbone and preventing further tooth loss. We insert the implants into the jawbone, where they act as a new tooth root. We then top them with a custom-made restoration.
Do You Have Missing Teeth?
We have lifelike solutions to tooth loss, from bridges to dentures. For more information on our approach to prosthetic dentistry, schedule a consultation with us by calling Jeffrey Leibowitz, DDS, in Astoria, NY, today at 718-728-8320.