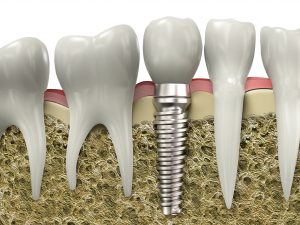 We strive to help Astoria, NY, residents enjoy optimal oral health. That means offering replacement options to fill the gaps in the smile left by missing teeth. In order to achieve a full and healthy smile, you may benefit from implant dentistry. In today's blog, we're going to look at dental implants and their benefits.
The Causes (and Dangers) of Tooth Loss
Don't assume tooth loss only impacts your appearance. When we lose our natural teeth, our oral health and overall health suffer as well. For example, losing multiple teeth may mean trouble eating a variety of foods, depriving ourselves of key nutrients. Others may have trouble speaking clearly. Over time, the lack of tooth roots will cause the body to suspend the flow of calcium and phosphorus to the jawbone around a missing tooth, leading to loss of jawbone density and for many, an older appearance. When you address your tooth loss, you enjoy a full smile and help ensure better overall health.
Placing a Dental Implant
A dental implant is unique among dental prosthetics. They don't rely on other teeth or natural suction to stay in place. Instead, an oral surgeon will insert them directly into the jawbone. Over the course of three to four months, they will bond with the jawbone through a process called osseointegration. Acting as new tooth roots, they have the ability to last for decades with proper care and attention, offering long-lasting and dependable tooth replacement.
Restoring Your New Tooth
Our Astoria team will create the restoration that tops your new tooth. The restoration is a dental crown that addresses the visible portion of your new tooth. We use ceramic to create them due to the material's strength and durability. The crown will be able to withstand the bite forces and pressure your natural teeth undergo. The material also contains stain-resistant properties and can be shaded to match the rest of your smile, providing natural looking tooth replacement. If you have multiple missing teeth, then you may receive multiple dental implants while we create a custom-made prosthetic, such as a bridge or denture, to restore the health and beauty of your smile. If you would like to learn more about implant dentistry, or if you suffer from a minor or advanced tooth loss, then contact our team today. Let us help you enjoy a full and healthy smile with a lifelike dental prosthetic.
We Have Lifelike Solutions to Missing Teeth
For those with missing teeth, we offer a long lasting and natural looking means of enjoying a full smile! For more information on tooth replacement and implant dentistry, schedule a consultation with us by calling Jeffrey Leibowitz, DDS, in Astoria, NY, today at 718-728-8320.