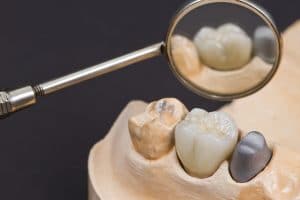 When a patient comes to us with a damaged tooth, or with severe decay, we often turn to restorations to fix the tooth and protect the smile from further complications. We may prescribe a dental crown. In today's blog, we have a fun quiz that highlights the benefits of our restorations and how we use them to improve your smile's health.
Try Our Dental Crown Quiz
True or False: The restoration addresses the visible portion of the tooth.
True or False: We make them all using the same material.
True or False: We use pre-made restorations.
True or False: We can address multiple cosmetic and restorative concerns.
Answer Key
True. Your crown is the part of your tooth that people see when you smile. As a result, placing one can address restorative problems, as well as cosmetic ones, ensuring you have a visually appealing smile.
False. For the front teeth, we often opt for ceramic, a lifelike material that can be shaded to match your surrounding teeth. For the teeth on the sides or the rear molars, we may recommend zirconia or metal, as these can withstand greater pressure and bite forces. We will talk to you about your options and choose the best one for your smile.
False. Each one will be custom-made, ensuring a comfortable fit and an esthetically-pleasing smile. There is no one-size-fits-all solution to repairing a tooth, a restoration will need to be custom-created each time.
True. We can repair cracked, chipped, worn down, or broken teeth. We can also anchor dental bridges in place or restore single tooth dental implants. We can repair advanced decay, infections, or abscesses as well. If you have any questions about our dental restorations, then contact our team today.
Does Your Smile Need a Crown?
At Jeffrey Leibowitz, DDS, we can help return your smile to full function, health, and appearance with a custom-made crown. We've proudly served our patients in Astoria, NY (including Queens, Manhattan, Brooklyn, and all surrounding communities) since 1991. To schedule an appointment with Dr. Leibowitz, call our office in Astoria today at 718-728-8320.