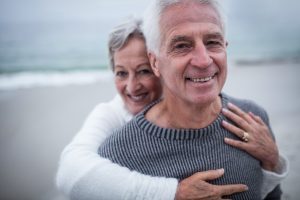 If you have a missing tooth, then dental implants offer an immediate benefit: filling the gap in your smile. But did you know they also offer a number of positive long-term benefits? In today's blog, we're looking at the benefits that dental implants offer our Astoria, NY, patients, and why seeking tooth replacement for missing teeth is always important.
How Do We Place Them?                                                   
Dental implants don't address tooth loss like bridges or dentures. Instead of relying on crowns, suction, or metal clasps to remain in place, we actually insert the dental implant into the jawbone. An oral surgeon will place the dental implants into the jawbone and we will take steps to ensure the patient remains comfortable and relaxed throughout the procedure. Being made from titanium, a biocompatible material, they will bond with the jawbone as the placement area heals. After three to four months, they will act as a natural tooth root.
Restoring Them
After the placement area heals, we move on to addressing the visible potion of your new tooth. We want to make sure your new tooth looks natural and blends with the rest of your smile. We add an abutment to the exposed dental implant and then place a custom-made dental crown. The crown will act as the visible part of your new tooth. We create them using lifelike materials, such as ceramic, which offers strength and durability while also mimicking the natural appearance of tooth enamel. We shade them to ensure they match the rest of your smile. Following placement, your tooth will look and function like a natural one.
Advantages of Implant Dentistry
Aside from their natural appearance, they also last much longer than bridges or dentures, which require periodic replacement. With proper care and attention, your new tooth could last decades. The body also recognizes them as natural tooth roots, stimulating the growth of jawbone tissue and preventing further tooth loss. The growth of jawbone tissue also prevents the patient form gaining an aged appearance, which often happens as a result of untreated tooth loss. You will be able to eat and speak as you did prior to losing your natural teeth. If you have substantial tooth loss, then we may use dental implants to support a bridge or denture, offering a fixed prosthetic that never slips and lasts for many years. If you have any questions about the causes of tooth loss or if you're ready to address the gap in your smile, then contact our team today.
Do You Want to Learn More About Implant Dentistry?
We want to offer a solution for the gaps in your smile. For more information on implant dentistry, then schedule a consultation with us by calling Jeffrey Leibowitz, DDS, in Astoria, NY, today at 718-728-8320.