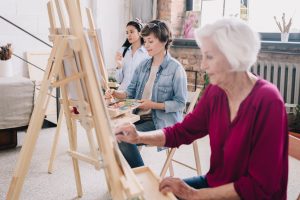 Do you have plans for this weened? If not, then we may have a few ideas! In today's blog, we're going to look at a few fun and interesting events taking place in Astoria, NY. Now, if you want to attend community events with brighter and more attractive smiles, remember that we offer our patients a wide array of cosmetic treatment options, from professional teeth whitening to lifelike porcelain veneers.
Community Events
Drunk Black History: The Creek and The Cave (10-93 Jackson Avenue) will be featuring Drunk Black History on February 22nd from 8pm until 9:30pm. Admission is $5 and the event is hosted by comedians Brandon Collins and Gordon Baker-Bone. Performers include Justin Williams, Marie Faustin, Jay Jurden, Ariel Leaty, and more!
Desert Paint and Sip: Learn to paint your own desert landscape masterpiece! The Paint Place will be hosting a Desert Paint and Sip on February 23rd from 1pm until 3pm. Admission is $45 and includes the materials needed to complete your painting. The Paint Place is located at 31-21 31st Street. The class is for ages 18 and up and is open to beginners. You will be able to bring your painting home with you after the class.
Zoology: Catch the latest concert in the Redeemer Concert Series at the Church of the Redeemer on February 24th from 6pm until 7pm. Admission is $15 and the church is located at 30-14 Crescent Street. Mezzo-soprano Hai-Ting Chen and pianist Martin Neron will be performing music inspired by the animals that populate our planet.
Crushing It: QED (27-16 23rd Street) will be featuring Crushing It on February 26th from 9pm until 10pm. Admission is $8 and the event is hosted by Mariana Garces, featuring a line up of her latest comedy crushes. Comedians will include Chloe Holmes, Veronica Garza, Sam Morrison, Emily Walsh, and Matt Fishman.
See Your Dentist Today
We want to help our patients enjoy heathy and beauty smiles throughout the year. For more information on our comprehensive approach to dentistry, schedule a consultation with us by calling Jeffrey Leibowitz, DDS, in Astoria, NY, today at 718-728-8320.