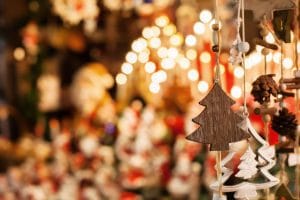 Once again, we're going to take a little break from the topic of dentistry and talk about our community. In December, there are so many fun and holiday-oriented events taking place. In today's blog, we're going to look at local holiday markets and more!
Community Events
Holiday Market at Bohemian Hall: Looking for interesting and unique gifts for friends and family? Then check out the Holiday Market at Bohemian Hall on Sunday, December 16th from noon until 6pm. There will be jewelry, baked goods, arts and crafts, clothing, toys, pottery, and more! You can also enjoy homemade foods and desserts. The market will take place at 29-19 24th Avenue and admission is free.
Make a Ready Resolution: You can be prepared for any emergency by attending Make a Ready Resolution on December 13th from 10:30am until 11:30am. Admission is free and the event takes place at Mount Sinai Queens in the George T. Douris Tower (27-40 Hoyt Avenue South, 1st Floor). Mount Sinai's Emergency Manager, Megan McPherson, will teach you how to create an emergency plan for your family, pick a meeting place, gather necessary supplies, and prepare an emergency Go Bag. Be better prepared for any serious emergency situation!
NYC Made Market: You can purchase amazing products, such as arts, crafts, jewelry, and more, from local artisans at the NYC Made Market on December 15th and 16th from noon until 5pm. The market takes place at 35-52 32nd Street. Admission is free! Find the perfect gift for that special someone in your life.
Do You Need to See Your Dentist?
If you need care to enjoy a healthy and beautiful smile, then contact our team. For more information, schedule a consultation with us by calling Jeffrey Leibowitz, DDS, in Astoria, NY, today at 718-728-8320.