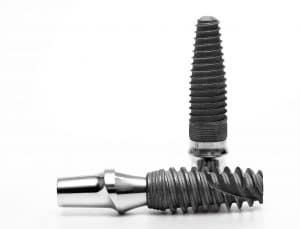 Over time, multiple factors can increase the risk of tooth loss, from poor oral hygiene to injury or even the presence of gum disease. When gaps appear in your smile, your appearance and your oral health suffers. Fortunately, we can offer patients in Astoria, NY lifelike tooth replacement with implant dentistry.
Try Our Quiz on Implant Dentistry
True or False: They will act like new tooth roots.
True or False: Underlying health issues won't impact your candidacy.
True or False: We create custom-made restorations for them.
True or False: They can last for several years.
Answer Key
True. Instead of using crowns or natural suction to keep them in place, an oral surgeon will insert the implant portion into the jawbone. Over time, the new implant bonds with the jawbone and acts like a new tooth root, offering greater stability.
False. If you don't have enough jawbone tissue to support the new tooth or if you have advanced gum disease (periodontitis), this could impact your risk. Gum disease in particular can cause your new tooth to fail, just as the disease can cause adult tooth loss. You may need bone grafting or gum disease treatment before we can move forward with placement.
True. After placing them, we can add an abutment to the new tooth, which will hold a custom-made dental crown. The crown is used to address the visible portion of the tooth, blending with the rest of your smile and ensuring your new tooth looks natural.
True. Bridges can last between 10 and 15 years, dentures between 5 and 10. Hover, dental implants can last much longer, several decades in some cases. If you have any questions about implant dentistry, then contact our team today. We can discuss solutions for tooth loss!
Ready for Tooth Loss Solutions?
At Jeffrey Leibowitz, DDS, we're ready to help you obtain a full and healthy smile once again. We've proudly served our patients in Astoria, NY (including Queens, Manhattan, Brooklyn, and all surrounding communities) since 1991. To schedule an appointment with Dr. Leibowitz, call our office in Astoria today at 718-728-8320.