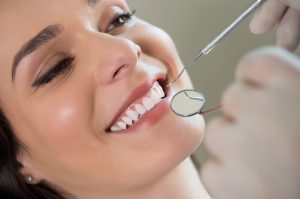 We've recently talked about the importance of a routine checkup, but there is also another regular treatment you need to enjoy good oral health. A dental cleaning can help remove harmful buildup and protect your smile from serious oral health concerns. So, don't forget your regular cleaning!
Try Our Quiz on Dental Cleanings
True or False: You need one twice a year.
True or False: We remove all plaque from your smile.
True or False: Treatment can prevent gum disease.
True or False: A deep cleaning can be used to treat gingivitis.
Answer Key
True. We agree with the American Dental Association: Patients of all ages need a dental cleaning every six months. Having your teeth cleaned every six months is crucial for avoiding the onset of oral health problems. Remember, even if you brush and floss as recommended you still cannot remove all plaque and tartar from your teeth. Only our preventive office visit can accomplish this.
True. Using either a manual tool or an ultrasonic scaler, we will remove all of the plaque and tartar buildup from your teeth. Doing so can prevent tooth enamel from becoming weakened, and also safeguard the gingival tissue from inflammation.
True. When gums become inflamed, they can bleed easily when you brush or floss, feel sore, or even appear more red than usual. Without treatment, these symptoms could soon mean the onset of gum disease, which can't be cured and must be managed to avoid the onset of periodontitis, the most common cause of adult tooth loss.
True. Should we uncover the symptoms of inflammation, also known as gingivitis, we can perform a deep cleaning to reverse the issue. We use an ultrasonic scaler, but we remove plaque from both the teeth and the roots as well.
Ready for a Visit?
At Jeffrey Leibowitz, DDS, we use preventive procedure to help patients maintain optimal oral health. We've proudly served our patients in Astoria, NY (including Queens, Manhattan, Brooklyn, and all surrounding communities) since 1991. To schedule an appointment with Dr. Leibowitz, call our office in Astoria today at 718-728-8320.