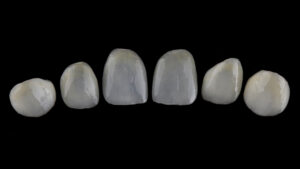 Did you know we could completely transform your smile in as little as two visits? Porcelain veneers employ thin restorations to make major changes to the shape and color of the teeth. In today's blog, your Astoria, NY, dentist talks about the major changes and smile corrections we can offer with cosmetic porcelain veneers.
Creating a Custom Cosmetic Restoration
We take great care in designing and creating a restoration for your smile, because we want to ensure a comfortable fit and a balanced bite, as well as a natural appearance. With porcelain veneers, this means we first need to numb the tooth or teeth receiving veneers, and then gently remove a thin layer of outer enamel from them. Once we do, we will take detailed digital images of them. We combine these to create an impression that allows us to design and cat a custom restoration in a dental lab setting.
Placing Them
When the restoration is ready, we will invite you back to the office and then check the fit. If needed, we can make final adjustments. The veneer is then placed onto the front facing side of the tooth with a powerful bonding gent. With proper care and attention, such as daily brushing and flossing and visits for six-month checkup and cleanings, they can last for years to come and remain bright and beautiful.
Benefits for Your Smile
The porcelain material we use is translucent like tooth enamel, and can be shaded to blend with the rest of your smile seamlessly. Which means we can address a host of cosmetic issues. For example, our team can use them to mask permanent teeth stains, the kind that may not respond to teeth whitening. Our team can also close unsightly gaps between the teeth, lengthen worn down teeth, and repair minor chips and cracks. Placement corrects misshapen teeth too. We've even used them to correct the appearance of minor misalignment, so you can enjoy an alternative to braces for a straighter looking smile. For a smile makeover, we can combine these with other treatments. For example, we could whiten teeth beforehand so they match your brightest smile, or we could reserve them for the front facing teeth and use bonding for the side and rear ones.
If you have any questions about porcelain veneers or about any of our other cosmetic treatment options, then contact our team today to learn more. We look forward to scheduling your cosmetic consultation!
Do You Have Questions About Cosmetic Restorations?
A stunning smile could be possible after only two visits with these custom restorations. If you would like to learn more about cosmetic dentistry, then schedule a consultation by calling Jeffrey Leibowitz, DDS, in Astoria, NY, today at 718-728-8320.