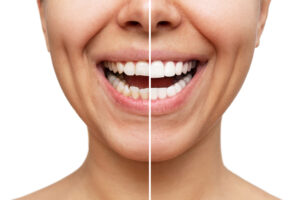 Should a tooth become cracked or chipped, or develop other esthetic issues with the shape and color, we can correct these concerns with an artistic touch. In fact, we have two cosmetic treatments that can offer a transformation in only one visit. In today's blog, your Astoria, NY, dentist talks about correcting concerns with bonding and contouring.
Planning Your Treatment
To get started, we want to understand the cause and extent of your esthetic issues. We will sit down with you to talk about your smile goals and concerns, and then carefully examine your teeth with digital x-rays and intraoral camera images. These images enable our team to diagnose your cosmetic concerns with precision and accuracy, so we can plan treatment to correct them and ensure optimal results. In many cases, we can accomplish this with dental bonding and contouring.
Dental Bonding
When we prescribe dental bonding, we will use a composite resin material to address the esthetic issues impacting your smile's appearance. This is the same material we use in our tooth-colored fillings. Our team will first numb your tooth and then remove any decay. We then clan the tooth and may gently etch the outer surface too. We prepare the composite resin, a metal-fee material, and then shade it to blend with the rest of your smile. We apply it in several layers, and sculpt and mold the tooth as the composite resin cures beneath a special light. The last step is to polish it for a brighter appearance.
The entire process takes one visit, and can allow us to treat minor chip and cracks, and add length to worn down teeth, and even close gaps between teeth too. We can even reshape malformed teeth as well.
Dental Contouring
The contouring process takes a very different approach. We don't need to add new materials to the tooth, instead we correct aesthetic concerns by buffing and sanding the outer structure. Our team can do this in the same visit as bonding, or in a separate one. We will correct minor chips and reshape overly large or malformed teeth. Our team can dull sharp, jagged, or pointed teeth too. The procedure can also smooth out pits, grooves, and rough patches in the outer surface. These minor adjustments could also help improve bite balance and chewing function too.
If you have any questions about our cosmetic treatment options, then contact our team today to learn more.
Do You Have Questions About Cosmetic Repair?
Our team is here to help you smile without hesitation. If you would like to learn more about our cosmetic treatment options, then schedule a consultation by calling Jeffrey Leibowitz, DDS, in Astoria, NY, today at 718-728-8320.