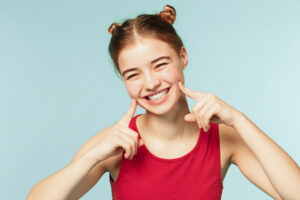 What happens when your smile displays too much gingival tissue? Well, these excess tissues could cause a gummy smile, which makes the gum line appear uneven, and even alters the appearance of the teeth. Fortunately, your Astoria, NY, dentist can help correct this in one visit with a gum contouring procedure.
The Impact of a Gummy Smile
Due to factors that occur as the smile grows and develops, you could potentially display too much tissue when you smile. Known as a gummy smile, this could be a source of embarrassment. For some, the lack of symmetry in the gum line causes teeth to appear uneven, or to even appear shorter or longer than adjacent ones. You could feel embarrassed to show off your smile when you laugh or pose for pictures. To help you feel more confident in social situations, we can correct the problem in one visit with a unique gum contouring procedure.
Correcting the Gum Line
First, we will carefully examine your smile to understand the factors behind your gummy smile, and to assess the severity. We then gently mark the areas we will be addressed. Using a special radiosurgery unit, can remove excess tissues without relying on scalpels or sutures. We take an artistic approach, trimming away tissues and improving the symmetry of the smile at the same time. The radiosurgery unit ensures the healthy tissues remain untouched, and prevents bleeding, swelling, or infection from occurring. The treatment rarely requires the use of anesthesia, and the healing period is fast. In fact, many people return to normal activities after only a day of rest.
What About Periodontal Disease?
What if in addition to swelling, your gums actually feel sore, look redder than usual, or bleed easily? This could mean the importance of gingivitis or the early stages of periodontal disease. Treatment is needed to manage the disease and prevent complications like adult tooth loss. We could use the same technology to remove diseased tissues, or for more minor cases, we could use a deep cleaning to remove harmful plaque and tartar from the surfaces of the teeth and roots. Traditional dental cleanings could then be conducted every three to four months to properly manage the issue.
If you have any questions about cosmetic dentistry or our approach to gummy smiles, or if you have concerns regarding gingivitis and periodontal disease, then contact our team today to learn more.
Ready for Cosmetic Treatment Options?
We can help you enjoy a more attractive smile in only one visit., so you can smile with confidence all summer long. To learn more about the best options to help improve the health and beauty of your smile, then schedule a consultation by calling Jeffrey Leibowitz, DDS, in Astoria, NY, today at 718-728-8320.