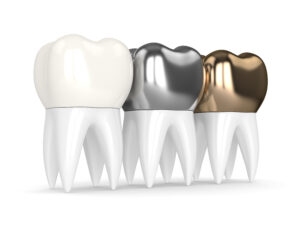 When a filling simply isn't enough to treat your oral health concerns, then you could require a dental crown. In today's blog, your Astoria, NY, dentist talks about how we use dental crowns to help strengthen a smile, and to address a variety of restorative and cosmetic dental concerns!
When a Tooth Needs a Dental Crown
A dental crown is a full restoration that covers a tooth, which means they can treat a host of minor and severe restorative issues. Since we create them with lifelike materials, they can also offer cosmetic options as well. We could use them to treat tooth decay and to complete a root canal treatment to treat an infected tooth. Placement could also help lengthen the teeth worn down by teeth grinding, or repair cracked and chipped teeth too. We've used them to reshape misshapen teeth too. If you have missing teeth, our team can employ one to two pf them to secure a bridge, or place one to restore a dental implant.
Creating and Placing Them
To create them, our team will gather detailed digital images of the smile to help plan the treatment process. We then administer a local anesthetic to the smile to ensure you're comfortable. We then remove structure from the teeth to make room for the restoration, and take detailed impressions with digital technology. In a lab, we can design and craft the finished product. When you return to the office, we will attach the dental crown with a powerful bonding agent. In as little as two visits, we can address an array of cosmetic and restorative issues.
Lifelike Materials
We could use a number of materials for the restoration. For the front facing ones, which are the most visible, we can use all-porcelain. This material is translucent like tooth enamel, but can be shaded to blend with the rest of the smile. The side and rear teeth must endure greater bite forces and pressure, so we could recommend porcelain-to-metal or zirconia, which are more durable but also able to be color-matched to blend with the smile. We want you to feel great about your smile afterward, and never hesitate to show it off! If you have any questions about restoring your smile, or if you would like to make an appointment, then contact our team today to learn more.
Do You Have Questions About Crowns?
We want to help restore the function, beauty, and health of your smile with restorative dentistry. To learn more about how we restore smiles, then schedule a consultation by calling Jeffrey Leibowitz, DDS, in Astoria, NY, today at 718-728-8320. Don't live with painful toothaches or damaged teeth, talk to our team about a lifelike treatment option!