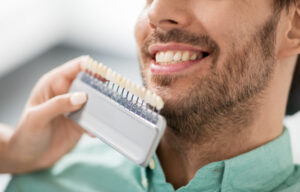 If you have several issues with the beauty of your smile, then we may recommend crafting and placing custom cosmetic restorations. In today's blog, your Astoria, NY, dentist can use cosmetic porcelain veneers to instantly transform the shape and color of each tooth. Offering a new smile in just two visits.
Crafting Each Custom Veneer
To ensure optimal esthetics and a long-lasting dental restoration, our team will custom-make each one for our patients. The process starts with the dentist administering a local anesthetic. Once you're comfortable, we will gently remove a layer of enamel from the tooth. Once done, we will take detailed digital images of the tooth, which we use to create a 3D computer impression. This will be used on a lab setting to design and craft one or more veneers.
The Benefits of Porcelain
The porcelain material we use is very durable, and often used to create crowns and even replacement teeth. The material is translucent like enamel, but we can also shade it to blend with the rest of your smile. Porcelain also absorbs daily bite forces and pressure, providing many years of dependable cosmetic improvement.
Once your new restoration is in place, it will be able to mask permanent teeth stains, close gaps between teeth, and even repair minor chips and cracks. We can also lengthen worn down teeth and reshape malformed ones too. The procedure could even correct the appearance of minor misalignment to prevent the need for braces or aligners. For a complete smile makeover, we could also combine this with teeth whitening and other cosmetic issues.
Placement and Maintenance
When your veneer is ready, we will check the fit and make any necessary adjustments. Next, we attach it to the tooth with a powerful bonding agent. Once in place, it can remain there for decades. Routine care keeps it bright and also safeguards the teeth we've attached it to. You should brush and floss daily, see us every six months for a checkup and cleaning, and enjoy a healthier diet. These actions keep teeth bright and also limit the risk of factors that could threaten them, such as tooth decay, infection, or even gingivitis and gum disease. If you have any questions about how we transform smiles with one or more porcelain veneers, then contact our team today to learn more.
Do You Have Questions About Cosmetic Restorations?
We would like to help people in our community obtain stunning and bright smiles. We have a comprehensive array of cosmetic treatments to address discoloration, gummy smiles, misalignment, and more. To learn more about our cosmetic treatment options, then schedule a consultation by calling Jeffrey Leibowitz, DDS, in Astoria, NY, today at 718-728-8320.