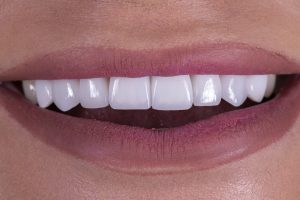 When you have issues with your smile beyond simple discoloration, you may assume a host of treatments is needed to correct them. But what if we could create porcelain veneers to mask these issues and transform your smile? In today's blog, your Astoria, NY, dentist talks about how we craft and place dazzling porcelain veneers.
The Esthetic Benefits of Porcelain Veneers
Since these restorations cover the front and sides of the teeth upon placement, they can mask a number of different esthetic issues. For example, we can mask permanent teeth stains, and close gaps or black triangle spaces between teeth. Placement could reshape malformed teeth or repair minor chips and cracks. We could lengthen worn down teeth too. If you have minor misalignment, then we can correct the appearance of your smile with placement, so you don't need to undergo treatment with braces or aligners. For some, this is essentially a complete smile makeover in only two visits.
Creating Lifelike Restorations
Each one is custom-made and fitted for your smile, which provides a comfortable fit, a balanced bite, and of course, a lifelike appearance. First, we will administer a local anesthetic and then remove a thin layer of outer enamel. Once we do, we take detailed images with digital scanning technology, using these images in a lab setting to design and craft the restorations. The porcelain we use is durable and translucent like enamel. The material contains stain-resistant properties, and we can shade it to blend with the rest of your smile. When your veneer is ready, we will attach it with a powerful bonding agent.
Let's Keep Your Smile Bright
Routine care helps keep your restorations bright, and protects the teeth we've attached them to from issues like infection or gum disease. To ensure your new smile stays bright and lasts for years to come, you should find time to brush twice a day for two minutes, and be sure you use a fluoride toothpaste when you do. Each evening, be sure you floss thoroughly too! A visit for a checkup and cleaning is beneficial too, as we can monitor the smile for signs of trouble, and also remove all harmful plaque buildup.
If you have any questions about this treatment option or if you want to find out if veneers are right for you, then contact our team today to learn more. We're ready to help you transform your smile, and use your 2021 benefits before they expire!
Interested in Cosmetic Dental Care?
Porcelain veneers mean a stunning new smile in only two visits, even if you have several esthetic issues. To learn more about our approach to cosmetic dentistry and smile improvement, then schedule a consultation by calling Jeffrey Leibowitz, DDS, in Astoria, NY, today at 718-728-8320.