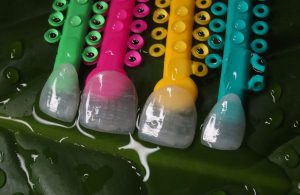 Porcelain veneers look natural, and in just two visits, could offer a stunning and shining new smile. In today's blog, your Astoria, NY, dentist explains what makes them so lifelike, and how we use them to provide smile makeovers and help smiles become radiant again. A transformed smile is possible with our cosmetic treatment options!
What Makes Them Radiate?
Each veneer is made from porcelain, a very durable and strong material used in other restorations, such as crowns and even bridges and implant restorations. The material is translucent like natural enamel, and we have the ability to color-match them to reflect the shade of surrounding teeth, blending seamlessly. The result is a lifelike appearance. They also contain stain-resistant materials, which enable them to stay bright for years to come!
How Do We Place Them?
Each one is custom-made for your smile. To begin, we use a local anesthetic to ensure you feel comfortable as we remove a thin layer of outer enamel, which makes room for them. Next, we use digital imaging systems to take detailed pictures and measurements of the prepared teeth. In a dental lab setting, the information is used to design and craft the finished product. When you return for a second visit, we will check and fit and if necessary, make final adjustments. The veneers are then attached with a bonding agent, securing them for decades to come. Keeping them bright and strong is often as simple as brushing and flossing daily, eating a healthy diet, and seeing us for checkups and cleanings every six months.
Potential Benefits for Your Smile
What cosmetic issues can we address with these custom cosmetic restorations? Well, you can mask any permanent teeth stains, the kind so severe that they may not respond to whitening strips. Placement could also correct the appearance of minor misalignment, offering an alternative to braces or clear aligners for some. We've used them to lengthen the teeth worn down by teeth grinding, repair cracks or chips, or reshape malformed teeth too. Placement could also close any unsightly gaps and embarrassing black triangle spaces between the teeth. In just two visits, we have the ability to completely transform your smile!
If you have any questions about how we improve the beauty of your smile, or about any of our other cosmetic treatments, such as professional teeth whitening and ClearCorrect aligners, then contact our team today. We would love to help transform your smile with a personalized treatment plan and custom restorations.
Do You Have Questions About Cosmetic Dental Care?
We want to make sure your smile remains radiant and stunning. To learn more about how we create and place a cosmetic restoration. then schedule a consultation by calling Jeffrey Leibowitz, DDS, in Astoria, NY, today at 718-728-8320.