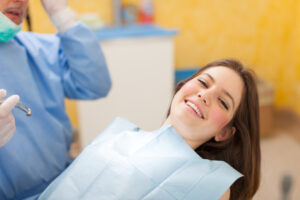 We recently talked about why you should see us soon to use your dental benefits before they expire. In today's blog, we would like to talk about the checkup portion of your visit in particular. In today's blog, your Astoria, NY, dentist explains how every smile benefits from a checkup every six months.
What Do We Look For?
When we look at your teeth, we want to identify common issues like tooth decay or dental infection, or the wear and friction that could indicate the presence of TMJ disorder or bruxism (teeth grinding). We examine the gums to assess the risk of gingivitis and periodontal disease, and we also screen for oral cancer, looking for common oral pathologies like sores or lesions. Identifying these issues early could mean treatment to prevent worsening discomfort, or possibly even tooth loss. We recommend giving us a call if you experience sensitive teeth, toothaches, or sore, red gums that bleed easily. These could often indicate that you have an oral health issue that needs immediate attention!
Using Digital Technology
To make a diagnosis with accuracy and precision, and identify problems in the earliest stages, we employ advanced technology. Digital x-rays use a fraction of the radiation that traditional systems employ, and the images don't need to be developed in harsh chemicals. Instead, the images are available right away chair side, and we can even walk you through the diagnostic process. We also have intraoral cameras to obtain detailed pictures of the teeth and gums. The technology we use allows us to peer at and beneath the gums, assess oral structures, roots, and more. The same images also aid in the design and placement of restorations or prosthetics too.
Cleaning the Teeth
We will also take time in our visit to clean your teeth as well. A dental cleaning accomplishes what brushing and flossing alone cannot, the complete removal of all plaque and tartar buildup. Removing this harmful bacterial byproduct helps lower the risk of not only bad breath and stained teeth, but cavities and even periodontal disease too. At home, you can brush and floss in between these visits to help limit how much plaque and tartar can accumulate. If you have any questions about how your smile benefits from a checkup and cleaning, or about your remaining dental insurance benefits, then contact our team today. We're ready to help you close out 2021 with a better smile!
Do You Have Questions About Our Exams?
Our team is ready to help you end 2021 with your best possible smile. To learn more about our approach to preventive or general dentistry, then schedule a consultation by calling Jeffrey Leibowitz, DDS, in Astoria, NY, today at 718-728-8320. We want to help you maintain a strong and beautiful smile!