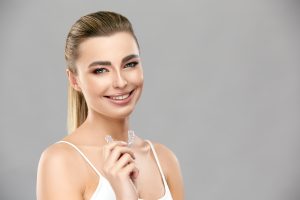 If you have misalignment, then you need orthodontic treatment to improve the alignment of your smile. Instead of relying solely on metal braces, our office has a more cosmetic approach. ClearCorrect employs a series of comfortable aligners that are nearly invisible when worn! In today's blog, your Astoria, NY, dentist talks about the ClearCorrect system.
How Straighter Teeth Boost Oral Health
Did you know that uneven teeth could make thorough brushing and flossing difficult, a complication linked to a greater risk of tooth decay, bad breath, gingivitis, teeth stains, and even gum disease? For others, an uneven smile could strain the jaw joints or cause imbalance in your bite. Malocclusion then leads to an increased risk of TMJ disorder and bruxism (teeth grinding). Essentially, straightening your smile not only improves the beauty of it, but also your overall oral health and function as well.
Our Custom Aligners
To begin, we will carefully examine your smile with digital technology to assess the cause and extent of your misalignment. If the ClearCorrect system is the right step forward, then we will use the digital images and measurements we gathered to design and craft a series of clear plastic aligners. Each set is custom-made for your smile, ensuring not only a comfortable fit, but treatment with precision and accuracy. They will be nearly invisible, and also help you avoid the gum and cheek irritation often reported with braces.
ClearCorrect Treatment
Each set of aligners is worn every day for 20 to 22 hours on average. After about two weeks, you move on to the next set in the series, as they gradually and gently reposition your teeth. The treatment time is shorter than is required for braces, with some patients seeing optimal results in as little as one year. You also have fewer office visits. They can be removed before you eat so you don't have to alter your diet. Brushing and flossing is also much easier, as you can take your orthodontics out instead of working around them.
If you want to see if these are right for your smile, then schedule a consultation with our team, so we can examine your smile and create a custom treatment plan. We can also discuss using other cosmetic treatments too, such as veneers to correct the appearance of minor misalignment. If you have any questions about our treatment options, then contact our team. Starting care now could let you use your reigning 2021 benefits before they expire!
Do You Have Questions About Cosmetic Orthodontics?
We would like to help correct your smile and improve overall beauty. To learn more about how we correct uneven smiles with a cosmetic approach, then schedule a consultation by calling Jeffrey Leibowitz, DDS, in Astoria, NY, today at 718-728-8320.